England vs. West Indies, Second Test: Day Three Review
West Indies 370a0 & 61/6 (Bravo 22, Bresnan 3/10)
England 428ao (Strauss 141, Pietersen 80, Rampaul 3/75)
West Indies lead by three runs with four second innings wickets in hand.
In two words
Bemusing / amusing
In a sentence
After an impressive day in the field, West Indies' top order once again fell cheaply to leave a Samuels & Sammy-shaped wall between England and victory.
Player of the day
Before play started, observers may well have predicted the batting side would be six wickets down at stumps – but not that it would be West Indies. It was a day largely characterised by the collective rather than the individual, but Tim Bresnan's late spell of three wickets for ten runs really nailed down England's advantage. Earlier in the day he finished with a red-inker; his 39* included a valuable 53-run partnership with Stuart Broad that was almost the difference between the two sides at the halfway stage.
From Kevin Pietersen's early dismissal through to the early evening, it looked West Indies' day. They bowled well, persevering in conditions that most thought would enable England to power through to at least 500 and never letting the batsmen settle. Ravi Rampaul was perhaps the best, Kemar Roach was more rhythmic than on Saturday and even Darren Sammy kept some pressure on England.
With England bowled out for 428, there were quiet mutterings that this was not the score that was expected on such a flat pitch. But the England seamers soon showed that whatever Rampaul could do, they could do better.
Moment of the day
Cricket's habit of sometimes being just a bit too stupid for its own good returned in the period before the tea-break. Graeme Swann's dismissal postponed tea for 30 minutes, roughly 15 of which were taken up by the groundstaff repairing part of the bowler's run-up. A variety of contraptions and tools were used, leaving the crowd looking-on in bemusement. Notwithstanding the gardening demonstration, the moment of the day sadly goes to Kirk Edwards (or happily to Bresnan). He had apparently been tucked up in bed with flu for the entire day and as such could only come in at number seven. After the usual suspects were removed early – and Shiv Chanderpaul had pulled Broad to Jonathan Trott's safe hands at fine leg – Edwards trudged to the wicket with a series average of not very many. The first ball from Bresnan hit him on the pads but was given not out. The second, though, was marginally straighter. Asad Rauf looked embarrased to have to give him out. For those wanting to keep track, Edwards now averages even less.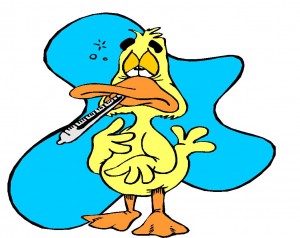 Outlook for tomorrow
After a surprising 14 wickets fell in the day, West Indies went from being competitive to staring a heavy defeat in the face. They are three runs ahead with four wickets remaining. However well Marlon Samuels and Darren Sammy bat on Monday, England will surely wrap up the match and the series.