Some Things We Have Learnt This Week
Three Year Itch
Since May 22nd 2008, the first day of the first Test between Australia and the West Indies at Kingston, only two men have scored more runs than Sachin Tendulkar (2,910) in Test cricket. Despite his poor run in 2010, Alastair Cook is leading the way with a colossal 3,274 runs. But have a guess at who is in second place. Possibly a South African? Maybe Kallis or Amla? How about another Indian? Sehwag's scored a truckload hasn't he?
Nope. In second place with 2,928 runs is Simon Mathew Katich. The hairy left-handed Australian. The makeshift opener who isn't Shane 'Shirley' Watson. A man whose parents can't spell Matthew properly. Admittedly he's a competent batsman, one who can defend staunchly and who generally* contributes to his team, but finding this out put us into the kind of confused shock that normally only follows seeing Marcus North score runs under pressure.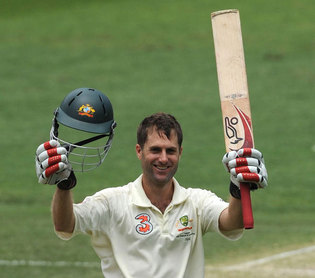 Nonetheless, when Cricket Australia announced their 25 contracted players for the 2011/12 season this week, Katich was the notable absentee from the list. Afterwards the chairman of selectors Andrew Hildreth described him as a 'fantastic player', which would lead one to assume that there must be equally fantastic players ready to replace him, though on the basis that Katich's replacement in the Ashes was Phillip Hughes, this may be another on the growing list of Australian selection howlers.
*except the first innings at Adelaide, 2010/11.
Everybody Get Up
Even if the followers of Twenty20 are getting bored of the crash, bang, wallop of pillocks in the crowd dropping 'snakes' of empty pint glasses and the fizz-pop of a display of Poundstretcher fireworks, it seems unlikely that the organisers will be reducing the duration of matches further. Sunday's match at Tunbridge Wells between Kent and Hampshire was reduced to a farcical five overs per side due to rain. This format may have suited Michael Lumb and Jimmy Adams who took Hampshire to 78/1 (Kent limped to 58/2 at a frankly pathetic rate of only 11.6 runs per over), but thankfully this manic form of cricket is highly unlikely to become a regular occurrence. Ritchie, J, Abs, Scott and Sean (we looked them up, honest) can rest easy at night: their 5ive logo is safe for now.
Such a Shame
By and large, England weren't really blessed with spinners in the 1990s, hence Min Patel's two appearances in 1996. Phil Tufnell should almost certainly have won more than his 42 caps but for a variety of reasons he didn't. Tuffers played only 12 Tests in England, with his first appearance of the 1991, 1992, 1997 and 2001 summers all being at The Oval, where his performances were often good enough to warrant a winter tour, before being replaced at the start of the next summer.
In the last ten years or so, the likes of Giles, Panesar and Swann have certainly provided England with consistency, but Gareth Batty still played seven times. So imagine our surprise when we found out just which two spinners had the best economy rates in the last 20 years for England (excluding Robin Smith's 4-2-6-0). Given that the King of Spain generally performed a containing role and Swann is currently the best spinner in the world, we assumed it might be them. But no: the honours here go to Robert Croft (2.37) and Peter Such (2.38), followed by Phil Tufnell (2.42). His debut 6/67 against Australia aside, our memory of Such is really of him being a (Peter) rabbit with the bat – including a 51-ball duck against New Zealand – and a flopsy, mopsy, cottontail bowler. Our sincere apologies. And congratulations to the stalwart of Sophia Gardens, still out-bowling Dean Cosker a mere 22 years after his first-class debut.