International Round-Up
This website has just celebrated its half-birthday with a few bottles of Blue Nun; six months is a long time in cricket and when we launched at the start of the England v Sri Lanka series, there were many fears that cricket, particularly in its five-day format, was in a state of disrepair. Internationally, flat pitches and small crowds meant that Tests were hardly exciting (apart, of course, from England defeating Australia 3-1). There were worries that the weaker Test sides were drifting away from the leading nations- i.e. England, India and South Africa- in a way that could result in some kind of split between the good and the not-so-good. And furthermore, the IPL was hanging around like a bad smell and cricket was in the afterglow of India's victory in the World Cup.
It is surprising though, that it has taken us six months to reach the point where we cannot avoid the cliched shortcut associated with cricket writing since the late 1970s. Here goes. It is time to use a 10cc lyric. We do keep Amjad Khan's picture on our wall (it just hides a nasty stain that's lying there) and our life is very much a minestrone; what's more, we don't like cricket. We love it. Sorry. We'll never resort to this again. But such has been the thrill and brilliance of Test matches recently, that it needs to be said.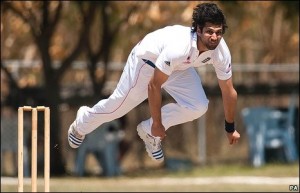 Our most recent international round-up described the "rather fine" first Test match between India and the West Indies. Although the second was a one-sided Indian victory by an innings and 15 runs (despite resilience by Darren Bravo and Marlon Samuels in the away team's second innings), the third was one of the great matches. It did not look that way for the first few days: West Indies amassed 590ao thanks to each member of the top six reaching 50 – and Darren Bravo going on to compile 166 – before India replied with 482ao. The Mumbai pitch resembled an ironing board as six Indians also made their half century (Sachin Tendulkar failed to score his 100th international century but did make 94), Ravichandran Ashwin making 103. By stumps on the fourth evening, West Indies were 81/2 and a draw looked inevitable. But then Ashwin (4-34) and Pragyan Ojha (6-47) tore through their opponents, bowling them out for 134. India were faced with a target of 243 from 64 overs. Although they lost Sehwag, Tendulkar and Dravid in five overs for 12 runs, even at 113/4 they looked comfortable. Virat Kohli then looked comfortable enough to see them home, but was seventh out for 63. India required 19 more runs from 5.5 overs, with three wickets in hand. The amazing climax really can't be summarised adequately, but it involved misfields, poor running, cart-wheeling stumps, a hobbling Darren Sammy and frenetic tweeting. So frenetic that our correspondent covering the match got the result wrong. For the avoidance of doubt, it was a draw: only the second occasion in which a Test has finished a draw with the scores equal.
So for India, a 2-0 series victory which probably offers hope and optimism more in the emergence of young bowlers than in the scoreline. Meanwhile, for the West Indies, the signs remain encouraging despite the one-sided result. In Darren Bravo they have a huge talent, and hopefully the other young members of their team will learn from this experience and continue to develop. A one-day series starts tomorrow.
The South Africa v Australia series was fascinating and we have covered it elsewhere. South Africa now have a few weeks until they start a home series against Sri Lanka; Australia's first Test against New Zealand starts in Brisbane on Thursday.
The Pakistan and Sri Lanka series has been overshadowed somewhat (both by other series and by the court case), but has revealed a resurgent Pakistan and struggling Sri Lanka. Pakistan won each of the last three ODIs to secure the series 4-1, by 21 runs, 26 runs and 3 wickets respectively. They also won the solitary T20 match by five wickets. They now head to Bangladesh full of confidence; Sri Lanka will need vast improvements if they are to compete satisfactorily against South Africa. Indeed, with Zimbabwe showing signs of competence, New Zealand optimistic for their series against an injury-ravished Australia and even Bangladesh having had their occasional moments of brilliance recently, it could be argued that all sides are improving apart from Tillakaratne Dilshan's men.
Yes by jove, we love it.