Commonwealth Bank ODI Series: Round Four Review
In our roundups of the previous three weeks of the Commonwealth Bank series there's been a recurring theme. Because we're a snobby bunch who find it hard to get excited about limited overs cricket at the best of times, we've tended to talk around the topic, rather than actually about it. See our travel blog, our discussion around Channel Nine's massively overpriced memorabilia tat and then, last week, a story about the rise and fall of Noel Edmonds.
Actually, while we're on the topic, last Monday morning there was a sticky note on our desk that we were asked to quote ad verbatim:
"Since its launch in June 2011, 51allout has quickly become synonymous with quality articles built on extensive research. Apart from one about Craig Kieswetter that was basically made up. However, due to a communications issue (someone spilled gin on the phone), this week's article entitled 'Commonwealth Bank ODI Series: Round Three Review' contained a number of factual inaccuracies relating to the career of Noel Edmonds.

Luckily, Noel Edmonds is unable to afford legal representation (due to being a shambling homeless in North London) so we'll probably get away with it this time. However, it would be in the best interest of both parties if no further discussion of Noel Edmonds' career and/or current situation was to feature on the site."
With all that in mind, and that fact that this week's games which produced some genuinely fantastic cricket, including one of the great one-day innings (©Mark Nicolas), we'll move straight on to actually talking about the matches. If Noel Edmonds had managed to raise enough money to get into a hostel with Sky Sports (one of the posh ones) he would certainly have found plenty to enjoy.
Game ten, Australia vs. India in Sydney, Sunday
Following the previous week's horror show, India found themselves bottom of the table. After a Test series in which everything that could go wrong went horribly, horribly wrong, they'd at least started to get some confidence back. However, that was until last week when two more thrashings brought morale crashing back down.
That pattern continued at the SCG. Despite taking a beating, India weren't actually that bad in the field, restricting their hosts to 252/9 from their 50 overs. David Warner actually produced a decent ODI innings, making 68, while David Hussey (54) and Matt Wade (56) also made half-centuries. There wasn't much from the rest of the batting lineup though, and all the Indian bowlers kept a degree of control.
However, the innings will be best remembered for a controversial moment involving David Hussey. As he attempted to scamper a quick single he deliberately blocked the incoming throw with his outstretched hand. The Indians appealed and, after much discussion, the third umpire ruled it not out on the basis that Hussey was just defending himself against injury. There aren't too many times that we actually get off the sofa to remonstrate with the television, but this was definitely one of those.
As if to rub salt into the wounds India were again on the receiving end as they set off chasing 253. After Sehwag went cheaply, playing a rubbish shot yet again, Brett Lee managed to accidentally get in Tendulkar's way as he tried to complete a risky single. Tendulkar ran around Lee but was run out by a mile and left the field looking really annoyed, like when you make a cup of tea only to find that someone has used up all the milk making White Russians.
After that India did their usual giving up act and were skittled for just 165, Ashwin topscoring with just 26. The bonus point win was enough to guarantee Australia a place in the final. But against whom?
Game eleven, India vs. Sri Lanka in Hobart, Tuesday
After a bit of dicking around with calculators, it was revealed that India could still reach the final if (a) they beat Sri Lanka with a bonus point and (b) Sri Lanka then lost to Australia in the final game. Not many people gave India much hope, given that they've spent the tour batting like the lovechildren of Devon Malcolm and Chris Martin.
MS Dhoni won the toss and chose to bowl, a decision that was probably entirely down to needing to know what was required to earn a bonus point batting second. On a flat pitch Sri Lanka made hay, Tillakaratne Dilshan making 160* and Kumar Sangakarra 105 as they racked up 320/4.
This left India chasing 321 to win, but needing to do it in 40 overs to get the required bonus point. As jobs go it certainly wasn't the easiest, up there with being Chris Schofield's bowling coach. And yet India did it. Not only that, they did it with more than three overs to spare. Quite how they managed it is simple: Virat Kohli produced one of, if not the, greatest one-day innings that you're ever likely to see.
That's not to forget the foundation that India's top three gave him. Sehwag made a rapid 30 (from 16 balls), Sachin 39 (from 30) and Gambhir 63 (from 64). Kohli comfortably outshone them all, making 133* from 86 balls with 16 fours and 2 sixes. It wasn't even an agricultural Afridi-esque innings, instead being built on proper cricket shots. One over in particular will live long in the memory, as Kohli despatched Lasith Malinga for 24 runs, working him around as if he were Dmitri Mascarenhas bowling gentle medium-paced filth. Indeed, Malinga will have been glad that the innings finished when it did. Had he bowled his full ten overs he may well have surpassed Mick Lewis's legendary figures (0-113).
It'd be wrong to say that a star was born during that innings – it was Kohli's ninth ODI hundred, which would put him in joint second place for his country if he was English – but it certainly emphasised his quality. He was the one shining light for India during the Test series as well, and the only batsman to emerge from the wreckage with his reputation enhanced. We thoroughly expect him to be left out for an old fella for India's next Test series.
Game twelve, Australia vs. Sri Lanka in Melbourne, Friday
In a tri-series as long as this is, one of the main issues is when games become dead rubbers. If the players don't even care about the result the audience certainly can't be expected to. Luckily in this case the final game was only half-dead, like Hugh Hefner. Australia had already guaranteed their place in the final but Sri Lanka needed a to avoid defeat to join them. As such, the MCG was only partially full with around 28,000 spectators. Of these only a handful were Australian, turning it into something of a home game for the tourists.
Presumably there weren't many non-Sri Lankans watching on telly either, making it almost impossible for Tony Greig to plug the country as a tourist destination. He still bravely persevered though, the tough old soldier.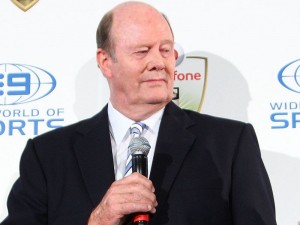 Sri Lanka won the toss and chose to bat. It was an unusual stop/start sort of innings: Jayawardene and Dilshan went cheaply before Sangakarra (64) and Chandimal (75) added 133 for the third wicket. At the halfway point Sri Lanka looked like they might reach 260 or more but they fell well short of that. Dan Christian popped up to take a hat-trick, finishing with 5/31, and James Pattinson took four wickets on his return to the side and Sri Lanka ended on 238, bowled out from the last ball of their 50 overs. Thirimanne was the only other batsman to make any sort of score, with a well-worked 51.
In reply Australia started disastrously. David Warner (6) reverted to type, and was followed by Wade (9) and Forrest (2), leaving the hosts at 26/3. Shane Watson and Mike Hussey rebuilt, before the latter fell for 29, closely followed by the former (65). This left David Hussey to work with the tail.
To further complicate things, Sri Lanka lost not one, but two bowlers to injury – Perera and Mathews both hobbling off the field. And yet they stayed calm, mixing up their various bowling options (eight bowlers being used in total) and continuing to plug away at the Australian batting lineup. Dan Christian and James Pattinson couldn't follow up their heroics with the ball, falling cheaply, and Clint McKay was run out taking a single that was as poorly judged as a Kevin Rudd leadership challenge.
This left Hussey and Ashes star Xavier Doherty to edge Australia towards their target of 239. Through a mixture of sensible batting and a little luck they made it to 226 before Doherty was undone by a slower ball from Malinga. With ten needed from the last over and only Ashes star Ben Hilfenhaus for company, Hussey went for broke but holed out first ball for a handled-the-ball-free 74. Sri Lanka had won by nine runs, a superb effort given their average score and subsequent injury problems. Rumours that India were at the airport before the post-match presentation had started can be neither confirmed nor denied.
And so Australia and Sri Lanka will meet again the the best-of-three final. Few can begrudge Sri Lanka their place – they beat Australia three times to get there and India were utterly dismal in several games. And yet it still came down to the final over in the final match before they were sure of it. More through luck than judgement, this series has kept things interesting. That doesn't mean we approve of 12 match ODI series on a regular basis though. Indeed the prospect of sitting through month after month of ODIs reminds us of that time when [libellous comment about Noel Edmonds removed].
We'll be following the opening game of the finals on Sunday, definitely on Twitter or possibly even via a live blogging thingy. We haven't quite decided yet. Either way, we hope you'll join us. Don't forget, if we're not around on Twitter at any time, you can also email in to our mailbox with your views. Cheers!