The Tailender-Taking Talisman Tahir
In one of our first podcasts, the talk turned to Imran Tahir. There was plenty of discussion (gin may have been consumed – we were young and immature back in August, we needed alcohol to get out of bed, let alone record a podcast) and the consensus was that he's far from being world-class. Some of us tried to consider his strengths, but kept on being shouted down by James who repeated his weaknesses (namely, being crap and, um, that's it). All good humoured stuff, hopefully, but we didn't really explore his stats, rather relied on intuition and the aforementioned gin. However now that we're afforded the luxury of spare time, what with the Sri Lankan monsoons, the absence of international cricket and that strongly-worded letter from Ms Pendleton's lawyers, we've delved deeper into Tahir's Test record and tried to establish whether it is true that he only takes the wickets of tailenders.
The first caveat is that his career is still in its infancy, having played just 10 Test matches. The other is that South Africa are at the moment quite good, and his ability or lack thereof certainly wasn't to the detriment of their results against England. With their tour to Australia starting soon, the performance of the spinners will be one of the deciding factors of the series.
The list below includes all spinners who have taken at least 25 Test wickets within the last three years – some fairly mediocre players are thus included, but at least Samit Patel is excluded. The figures cover their entire Test career and shows their their wickets, split between those that were players batting in the top seven and those that were batting at eight or lower.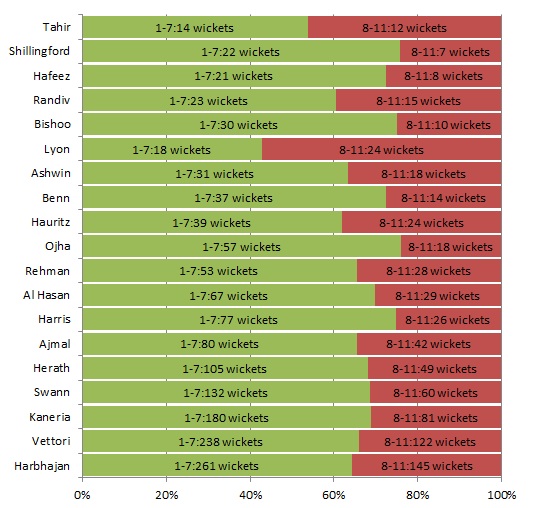 Pleasingly, this shows an Australian spinner with by far the largest percentage of tailend wickets, with Tahir second. The difference between the top two and the rest is surprising, even to us – and we really don't get Nathan Lyon at the best of times. Obviously, as already mentioned, Tahir has played relatively few games so far, but his record is interesting, particularly compared with Paul Harris, his predecessor in the South African side. Harris was perceived as someone who would hold an end up, whilst the South African quicks were rotated at the other end. Now Harris can't have bowled Ian Bell out every single time they played, so his record must also include some other top order batsmen. It's certainly notably different from his successor's stats.
For the sake of comparison, these are the leading seamers in the last three years (in terms of quantity of wickets, no way is Mitchell Johnson leading anything apart from the number of wides bowled and the Australian mummy's boy of the decade rankings), plus Vernon Philander. Again, their career records are used.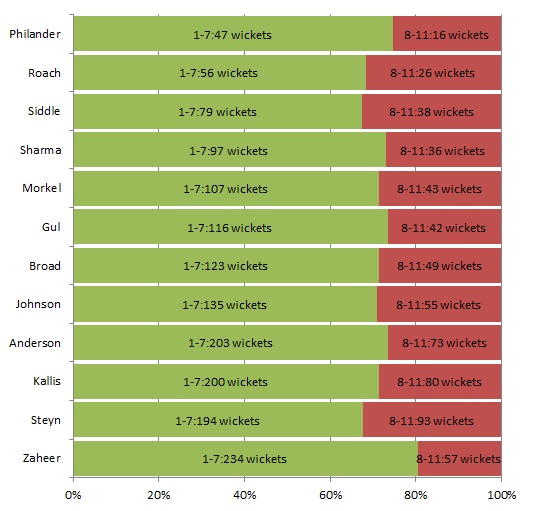 This suggests that in general spinners have a greater proportion of tailend wickets than seamers do – if we take both our samples as a whole, 33% of spinners' wickets are tailenders, compared to 28% of seamers'. However, focusing on South Africa again, it is noteworthy that Philander's proportion of tailend wickets is identical to Harris's. The presence of both Peter Siddle and Dale Steyn atop this particular list does demonstrate the downside to this method as a comparison tool, but we're happy to use this as a reliable indicator of both Lyon and Tahir being at least fairly crap. Though that also means we have to accept that Zaheer Khan is some kind of genius.
We'll keep an eye on progress throughout the Australia vs. South Africa series, to see if this trend continues. No doubt, when Tahir does cartwheels around the outfield, celebrating his dismissal of Ben Hilfenhaus caught at cow corner, we'll be gloating.