Coming In A Mess, Going Out In Style: The Oasis Story (Featuring Mike Hussey)
While we're always very careful to tell Editor Steve that we love writing for 51allout and definitely aren't in it for the free stuff (which currently stands at one book and some Kingfisher beer), there's no doubt that it can take up a lot of time. Back in the dark old days we actually had a few spare hours here and there to do other things, such as forming terrible bands, writing terrible songs and utterly failing to impress girls. To see how it was supposed to be done, a teenage version of this author headed off to Knebworth in 1996 to see Oasis, along with about half the country.
The Knebworth gigs are legendary for several reasons. Over 2.6 million people applied for tickets for the two shows, making it the largest ever demand for concert tickets in British history, just ahead of Daphne and Celeste's legendary performance at Cardiff University in which they were bottled off stage within three minutes. The support acts for that gig (the Oasis one, not the Daphne and Celeste one) included such luminaries as the The Charlatans, Kula Shaker, The Manic Street Preachers, The Bootleg Beatles, The Chemical Brothers, Ocean Colour Scene and The Prodigy, all of them heavyweights of the nineties music scene. Apart from Kula Shaker, who were obviously much more than that.
Anyway, the gigs were rather successful. When doing our research we actually discovered that you can watch the second night in its entirety (plus some documentary gubbins) on YouTube right here. Liam appears to be wearing a cricket sweater on stage, for a start.
The real issue that we're getting at, as we desperately attempt to get around to the actual cricket related bit, was the question of where the band went next after Knebworth. Not in a 'which pub is best?' type way, but in a more long-term direction kind of way. There was a feeling that the band had gone as far as they could and should go out at the very top in a blaze of glory but, as Noel Gallagher himself has said, "too many people were making too much money" and they simply carried on, trying to make their next album even bigger. The end result, Be Here Now, is 72 minutes of cocaine set to music that is apparently the album most sold to second-hand record shops. It's not too hard to see why.
Of course, it's easy with hindsight to say that Oasis should have called it quits after Knebworth. And the same can be true for any number of top cricketers. Everyone has their opinions on Sachin Tendulkar and his apparent attempts to play forever but it's pretty obvious to us that winning the World Cup in 2011 was India's Knebworth, with everything since then being lumpen dadrock with ever-diminishing returns.
But how many players actually get to retire at the top? A quick straw poll of the 51allout office produced the standard responses to almost every question: Mark Ealham, Ian Salisbury and Amjad Khan. But there were also a couple of sensible answers, particularly around those Australian players who chose to retire from international cricket after the 2006/7 Ashes: Shane Warne, Glenn McGrath and Justin Langer.
The recent retirements of Ricky Ponting and Michael Hussey led us to put our Scorer's Notes hats on and start messing about with the Test career figures of some of the greatest (retired) batsmen in the history of the game. And Alec Stewart. At a very basic level, we wanted to look at three things: their final career batting average, their average in their last ten innings (which gives us a view of their form when the end came) plus the score from their very final innings. Having compiled all these bits of info, we did what we do best and fucked off to the pub put them into a chart: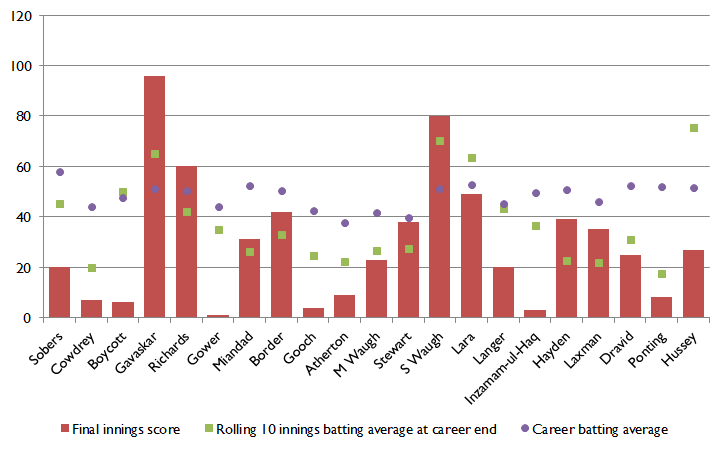 The first thing to leap out from that chart are the generally rubbish final innings scores across the board. These are the top 20 run-scorers to ever finish playing Test cricket (plus Hussey), yet not a single one of them finished with a hundred. Gavaskar was the closest – he made 96 against Pakistan in a game that India agonisingly lost by 16 runs – while Steve Waugh made 80 in a hard fought draw against India at the SCG. After that there are an awful lot of low scores, nine of them being 20 or less. (Although Border, Langer and Hussey were all undefeated at the close of their particular innings).
Perhaps the most relevant analysis is around the relationship between the career average (the purple circle) and the rolling average for the last ten innings (the green square). This gives us a very good view of whether a player was in decent nick at the very end. In only five of our 21 cases was the latter higher than the former. In all the rest, things were on the way down with some very low rolling averages: Ponting's was just 17.4, Cowdrey's 19.9 and VVS Laxman's barely better at 21.8.
Those who did leave their audience wanting more were Boycott, Gavaskar, Steve Waugh, Brian Lara and the most recent retiree, Mike Hussey. Indeed it's in the latter case that the gap is actually largest. From a selfish perspective, Hussey's retirement makes perfect sense – it'd be hard to see his chart looking so healthy if he'd finished with an away series in India followed by ten Ashes Tests, particularly if he just didn't really fancy playing all that much. This way he goes out on a genuine high. From Australia's perspective, however, it leaves his side horribly, horribly exposed, ripe for hilarious back to back Ashes drubbings. As things stand (and despite what Mickey Arthur may say) they genuinely don't seem to have a plan for their next match. And in the end, it is all about the right here, right now. D'you know what I mean?