England v Sri Lanka, 1st Test, Day 5 Review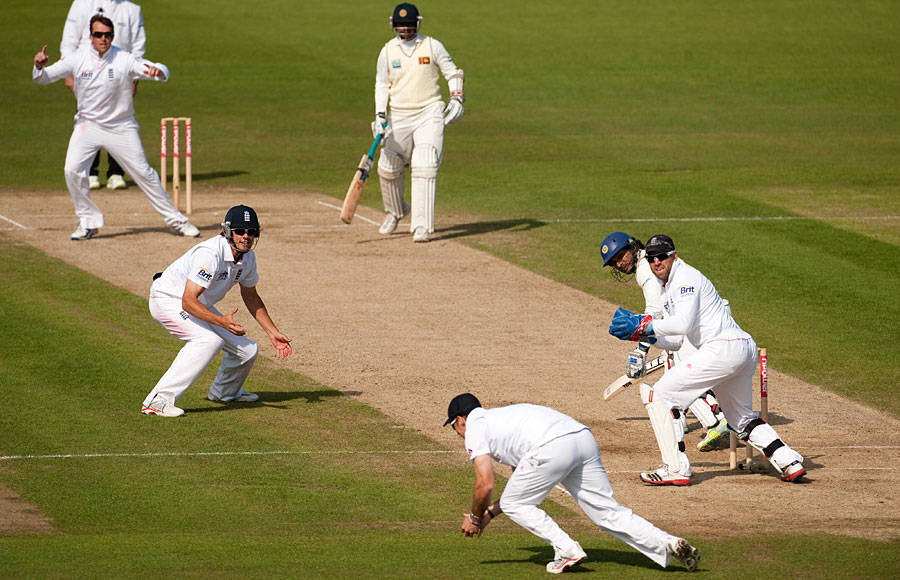 Close of play
England 496-5d (Trott 203, Cook 133, Bell 103*)
Sri Lanka 400 and 82ao (Perera 20, Swann 4-16, Tremlett 4-40, Broad 2-21)
England win by an innings and 14 runs.
In a sentence
An unbelievable few hours saw England steal victory from the jaws of a damp squib of a draw.
Player of the day
Chris Tremlett. After yet another late start, Strauss kindly allowed Bell the two overs required in which to reach his 13th Test century. Sri Lanka were thus left with approximately 50 overs to bat through to a dull draw. Tremlett tore into the openers and had them both out before tea. After the break Swann bowled splendidly and Tremlett's bounce and movement took two further wickets to leave Sri Lanka in disarray (although the wicket of Prasanna Jayawardene caused further debate over the UDRS: he attempted to hook and the ball went through to Prior to a mass appeal; Umpire Doctrove gave him not out; England reviewed the decision and HotSpot seemed to show no evidence, but the sound and path of the ball indicated it did make contact. After a discussion between Umpires Tucker and Doctrove, the decision was overturned, however the evidence was probably not irrefutable). A late flurry of runs by Perera saw Tremlett removed from the attack, but Broad wrapped things up with some hostile fast bowling. Sri Lanka were dazed and confused, England were confident and inspired; fortune favoured the brave.
Moment of the day
The 18th over of the Sri Lankan innings. From around the wicket Swann bowled a beautifully flighted off-break that dipped and with a hint of turn took the edge of Sangakarra's bat and carried to slip. Three balls later, this time over the wicket, Swann bowled a slightly quicker ball wide of Maharoof's off stump. Despite a bold forward defence, he nicked it to the grateful Prior.
So now on to Lord's. On a day that threatened nothing but rain and a chance for batsmen to play for their averages, a monumental achievement from England and complete loss of control from Sri Lanka leaves the series looking one-sided. Nevermind five bowlers, England won this with three. Anderson will be missed at Lord's, but Finn is a capable replacement on his home turf. The tallest bowling attack ever will surely give Sri Lanka more discomfort, unless their top order knuckle down and show some focus and discipline for the duration of the match. Meanwhile England storm forward, having now won four out of their last five matches, each won by an innings.