The Bell Tolls For Pietersen
Yesterday's play at Lords saw a few unusual events: Jonathan Trott was out cheaply, Alastair Cook displayed a rare lapse in concentration and there were 177 runs in the evening session, a vast amount in test cricket. But two things that didn't seem unusual were the contrasting performances of Kevin Pietersen and Ian Bell.
While Bell certainly wasn't at his best, he still made a vital half-century. Pietersen, however, made just 2 before being caught in the gully after slashing at Lakmal. It was a poor shot and continued a poor run of form for Pietersen, with only one hundred since the 2009 tour of the West Indies (that we enjoyed so much we named the blog after it).
One of the results of the 51 all out debacle (the England batting performance, not the blog which is so far largely debacle-free) was Ian Bell losing his place in England's team. He was somewhat fortunate to get it back during the 2009 Ashes (as a direct result of Pietersen being injured) but since that return he's been a consistent runscorer in England's excellent middle order. The only down side would be how little batting he's actually had to do, relatively speaking, due to the efforts of those above him in the order.
So Pietersen and Bell: two careers going in different directions. And what better way to show it than in a chart (with Pietersen's test career in blue and Bell's in red)?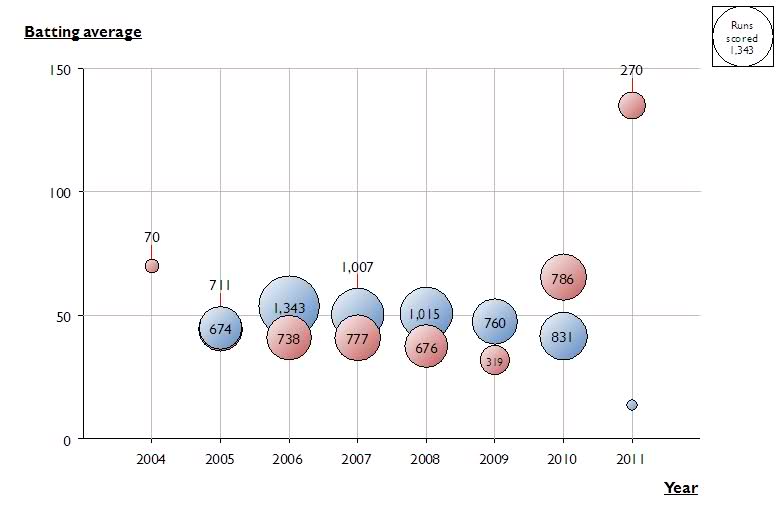 If you do a 'join the dots' exercise it's very clear – after being overshadowed by Pietersen from 2006 to 2009 Ian Bell has finally emerged from the shadow of his more illustrious colleague. And the difference in 2011 couldn't be much bigger.
So what next for these two? More runs for Bell, certainly. At 29 he probably has five or six more years batting in the middle order to look forward to. Realistically he could end up with more than 8,000 test runs. But for Pietersen there is a definite feeling that the spark has gone. No matter how many times he talks about how well he is batting in the nets it just doesn't seem to translate out into the middle. The two Andys have demonstrated remarkable loyalty to their experienced batsmen – look at Paul Collingwood's Ashes series for proof – but they dropped Pietersen from the ODI team only last year. If the promised 'great summer' doesn't arrive, will they be bold enough to do the same again? After all the talk around Morgan or Bopara getting the nod, might we see both of them in the team together?