The Commentators: The Tourism Ambassador
One of the most familiar sounds to a cricketing armchair viewer, from Hobart to Hove to Hyderabad, will be the elongated vowel sounds of Tony Greig. Here in Britain, we have managed to avoid him commentate on England matches since Channel 4 lost the right to broadcast home matches, but he popped up on Eurosport recently covering the Sri Lanka v Australia series and he reminded us that we find him a tad annoying.
But let's start with a bold statement: Anthony William Greig is the most underrated England player of the last 40 years. We will come to his infamy shortly, but as an all-rounder his Test match batting average (40.43) was eight runs higher than his bowling (32.20). By way of comparison, Ian Botham averaged 33.54 and 28.40. In his 58 Tests, he only managed to score eight centuries, but these included 148 against Bedi and Chandrasekhar in Bombay, 148 against Roberts, Sobers and Gibbs in Bridgetown and 110 against Lillee and Thomson at Brisbane. He also scored centuries in cities that don't begin with B. Here he is in fine form against the West Indies
Although his 6'6" frame would suggest he should be a fast bowler, Greig could bowl either medium pace or off-spin. He took 141 Test wickets, at a good strike rate and decent economy. His best bowling figures are certainly not to be sniffed at either, taking 8-86 (and 13-156 in the match) against the West Indies in 1974- only Botham and Underwood have since managed a similar match total for England.
Born in South Africa to a Scottish father, Greig made his way to England to play for Sussex and was soon debuting in the England team at the age of 25. He was captain within three years. In the 1974-75 series against the Australians, Grieg was the one who bowled a bouncer to dismiss Lillee, sparking a reciprocal display of fast bowling that frankly gives us the willies (there's a joke about David Lloyd we can make here). As can be seen from this video, Lillee and Thomson did not hold back, but Grieg still demonstrated how to be a wind up merchant, something that is apparent still to this day (England won that first match, but lost the series 3-2).
He was also a fine fielder, taking 87 catches in those 58 Tests. We didn't realise this kind of fielding was around in 1994, let alone 1974.
Despite his pedigree, his playing career is generally remembered for two reasons.
Firstly, what would these days be termed Grovelgate. Tony Greig was a white South African leading an England team into a series against the West Indies in the mid-1970s. Unwisely, he stated that he intended to make his opponents grovel. Notwithstanding the questionable choice of language, this served to stir up West Indian emotions. This clip says it all really.
Secondly, whilst still England captain, Greig was agreeing to play in what would become World Series Cricket and moreover was trying to convince teammates to also sign-up. As a result he was soon removed from the England captaincy in 1977- but not the team until the end of the summer- and he became one of the most visible faces of Kerry Packer's fledgling enterprise. This led to a court case against the Test and County Cricket Board who were attempting to ban WSC players from first-class cricket. Although Grieg and his co-plaintiffs won, his career soon ended; his final act was being dismissed for a duck in the 1978-79 final.
Whole books and films have been produced about these incidents, but they do seem to taint Greig's playing career.
He became a commentator on Channel 9 in the 1980s and has been there ever since, mostly trying to wind up Bill Lawry. Although his commentary can be insightful, he is often outspoken and is not unfamiliar with faux-pas.
Grieg on a spectator, with added Bill Lawry
He is also prone to commentating along the lines of 'massive shot, that's six…and he's out' or 'that might be out, is it? did it come of his glove? not sure, let's see now, yes, the umpire signals for a boundary'.
Moreover, as part of the Channel 9 team he often seems to be peddling tat in the name of charity or a benefit. Now we appreciate the need for both charity and benefits, but Greig and his pals do seem to give it an unnecessarily hard sell. Greig also interjects his commentary with his own tour guide to the country he's in. This was particularly noticeable in the recent Sri Lanka v Australia series: Grieg is now actually employed as an ambassador for Sri Lanka tourism. Admittedly a country like Sri Lanka needs tourism and inward investment, so it is hard to criticise, but when a sports commentary starts to sound like Wish You Were Here, we feel a bit disgruntled. It's not as if the Vale of Glamorgan Council pay us to promote caravanning in the Llantwit Major and Cowbridge area, and if they did, we wouldn't keep on mentioning Barry's sandy beaches, the heritage coast at Nash Point or the easy access from the M4.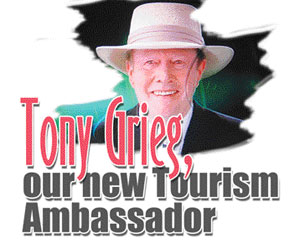 So Grieg very much annoys us. But to give the big man some credit, he did give us this classic bit of commentary: Channel 9 graphics and technological incompetence in perfect harmony.