Behind The Stumps
By 'The Australian'
In the second of an occasional series exploring the reconstruction of the Australian Test team ahead of the next Ashes series, our attention turns to who will be behind the stumps for the Aussies come the northern summer next year.
Of all the players Australia have been forced into replacing in recent years, it seemed as though a new wicket-keeper would be the easiest berth to fill. With explosive lower order batting that had the potential to turn a Test within an hour, Adam Gilchrist was a 'keeper-batsmen who reinvented the genre and looked to be an impossible player to replace. His successor, Brad Haddin, however, made the transition look easy. After making his Test debut in 2008, Haddin averaged 44 in his first full calender year in Test cricket, suggesting that this was one position, at least, that the Australians would have no problems filling.
Haddin's rapid rise, however, has been matched by his decline. In his second full year his average dipped to 38, and last year it fell to just 20. Of course, a 'keeper's worth is not measured by his batting average alone, which is unfortunate for Haddin, as he also has a tendency to concede a mountain of byes each game, not to mention a plethora of grassed catches.
After another poor series for Haddin against India, now is as good a time as any to review Australia's prospective 'keepers, and see which next poor soul will be required to cry "Bowled Gary" as each Nathan Lyon full toss gets dispatched over long-on in the next Ashes series.
Brad Haddin
Haddin hit the ground running when he finally made his Test debut at the ripe old age of 30. A solid start against the West Indies was followed with strong showings at home against New Zealand, at home and away against South Africa and finally in the Ashes tour of 2009. Whilst his batting was strong his glovework was less so, conceding an alarming amount of leg side byes in particular. Although, to be fair, that could probably be excused by the fact that he was required to keep to Mitchell Johnson quite a bit.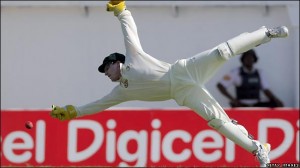 The 136 he scored against the English in Brisbane in late 2010 has proven to be his last innings of any real note, whilst the byes and dropped catches have not dried up to compensate his lack of runs; if anything they seem to have only increased. Haddin recently took some time out from publicly sledging the touring Indians to admit that tiredness may have contributed to some of his recent poor batting displays. What really infuriates supporters though (this author included) is his unwillingness to attempt to build an innings, preferring instead to attempt to launch every delivery somewhere over the midwicket boundary. Some may view this approach as being commendable, with Haddin seemingly willing to treat his own wicket as expendable in the attempt to score quickly late in an innings. The problem arises, however, when he carries this same approach into situations where a more measured attitude is required, often leaving the tail unnecessarily exposed.
It seems unlikely that Haddin will be dropped from the Test team – he is the vice-captain after all – and the Australian coach, Mickey Arthur, recently stated he would like to see Haddin play on till the next Ashes series. It appears likely, therefore, that Haddin will be allowed to retire on his own terms.
Tim Paine
Paine is a promising talent who has recently been laid low by a series of debilitating injuries. Firstly an elbow injury and now a finger injury that has required two bone grafts thus far, as the finest sawbones that Cricket Australia can find attempt to rebuild him, have kept Paine out of all cricket since mid 2011. Having to consistently refute rumours that you will never play again is not a promising sign for supposedly the country's number one wicket-keeper.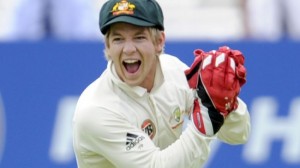 If Tim Paine was fit enough to withstand the rigours of Test cricket it is probable that Haddin's Test career would have ended after the last Ashes tour. A much more competent gloveman than his rival who has already appeared in four Tests and twenty-six ODI's, Paine has been Australia's next Test 'keeper for a good while now.
It seems unlikely, however, that Paine will tour the West Indies in March, partly because of a complete lack of cricket and partly because he would probably fall apart on the plane trip over. At 27 years of age, Paine has time on his side, but the team cannot stand still waiting for science to successfully rebuild him, particularly since a successor to Haddin will probably (hopefully) be needed sometime within the next twelve months.
At the moment Paine's reputation continues to grow with every Haddin dropped catch or aimless waft outside off stump. But unless he can prove that he can actually put on a pair of gloves again without leaving three fingers inside them when he takes them off, he risks being left behind by his rivals.
Matthew Wade
The Victorian gloveman has come into national reckoning largely as a result of Paine's ongoing injury problems. A more than competent batsman who averages over 40 in first-class cricket, Wade was recently introduced into both the Australian T20 and ODI squad's at Haddin's expense, although the later is for only the first three games of the summer, with the official line being that Haddin requires a 'rest'. It must have been a tough summer of having to listen to Ricky Ponting recite lengthy passages from past editions of 'A Captain's Diary'.
Wade's batting in his three opportunities thus far have been impressive, but serious questions remain over his glovework. He is particularly ill at ease when required to stand up to the spinners and medium pacers; some of his keeping in the recent BigBash competition bordered on the comical at times. Since the national squad already contains a 'keeper who is equally capable of scoring late innings runs and shelling the simplest of catches, Wade has had a tough time convincing the selectors of his credentials as opposed to those of the incumbent.
If Haddin were to retire in the immediate future Wade would logically be the next man in, but only on the grounds that there is nobody else at the moment in a position to challenge for the spot. It is not the greatest of recommendations but such is the state of the countries keeping stocks at the moment.
Peter Nevill
Haddin's continuing Test career has had one happy consequence in that it has opened up a spot for a replacement 'keeper in the NSW squad. Originally that spot was filled by Dan Smith, but late in the 2010/2011 season Nevill forced his way into the team and has not looked back since, recently capping his rise with capturing the BigBash title with the Sydney Sixers.
With a first class batting average of nearly fifty after thirty innings, and strong all-round glovework, Nevill is one of the most promising 'keepers in the country. With all the talk being about Paine's endless injury problems Nevill has largely slipped under the radar. He is perhaps a little too inexperienced to make the step up straight away, but if nobody has managed to make the position their own by next summer, Nevill has a strong chance of earning a Test call up if he maintains his current form.
Wade's form in the two T20's and first ODI against India (he was named Man of the Match in two out of the three games) has created something of a dilemma for the selectors. Will they return Haddin to the squad after his imposed 'rest', or do they confirm Haddin's own self expressed fears and stick with the new guy, condemning Haddin to international irrelevancy? A third possibility also presents itself, of resting one of the senior batsmen and retaining Wade as a specialist batsman in the one day squad. Considering the shortfall of proven 'keeping candidates at the moment, the selectors would understandably be loath to completely cut Haddin out of national team reckoning at this stage.
Cricket Australia recently confirmed that two 'keepers would be taken on the tour of the West Indies in March, and the second is surely to be Wade. It appears likely, therefore, that Wade will get his opportunity to play Test cricket before Paine manages to clamber off the treatment table, and if he performs well may overtake Paine as the country's number one 'keeper by the time mid 2013 rolls around.
At this stage it appears that it will be one of either Wade or Paine behind the stumps come the next Ashes series, with Haddin announcing his international retirement sometime in the interval: possibly within the next few months. Like the current spinning situation, it is otherwise clear that there is no one outstanding wicketkeeper in the country capable of making the Test position their own. For the moment it is evident that the number one keeping spot is up for grabs. If only there was a gloveman in the country good enough to hold onto it…