Pietersen Pieters Out
It's long been difficult to talk about Kevin Pietersen in a completely subjective way. Everybody seems to have a pre-concieved view of England's most flamboyant batsman, with people either loving or hating him, with no middle ground. As for us, we had plans for Jessica Taylor way back in 2001, where she caught the eye on the original series of Popstars, so having been usurped by England's superstar batsman we've long been calling for him to be dropped. Even when he made three hundreds in a series against South Africa we were calling for his head. That's what happens when you steal the future Mrs 51allout off us.
Pietersen's decision to quit international one-day and T20 cricket has caused huge debate amongst the cricket community. The ECB have come in for criticism for their inflexible approach to their 'best' player while Pietersen hasn't escaped unscathed either, mainly for his terrible timing with the defence of the World T20 trophy just three months away. But we wanted to look at the issue from a slightly different angle, namely in terms of how much England will actually miss him.
Kevin Pietersen's 4,184 runs in ODI cricket put him sixth in the all-time England list (although technically 18 of those runs came for the ICC World XI in that God-awful nonsense series in 2005/06), behind stalwarts such as Paul Collingwood, Alec Stewart, Marcus Trescothick and Jamie Dalrymple (the latter may or may not be true). Pietersen has a much superior average to any of those others though; his 41.84 being bettered only by Jonathan Trott (48.31).
And yet KP's average fails to tell the whole story. His ODI career has been a very patchy affair. To look at this in a chart, we've looked at his batting average by series (the blue line), compared against his overall average (the red line).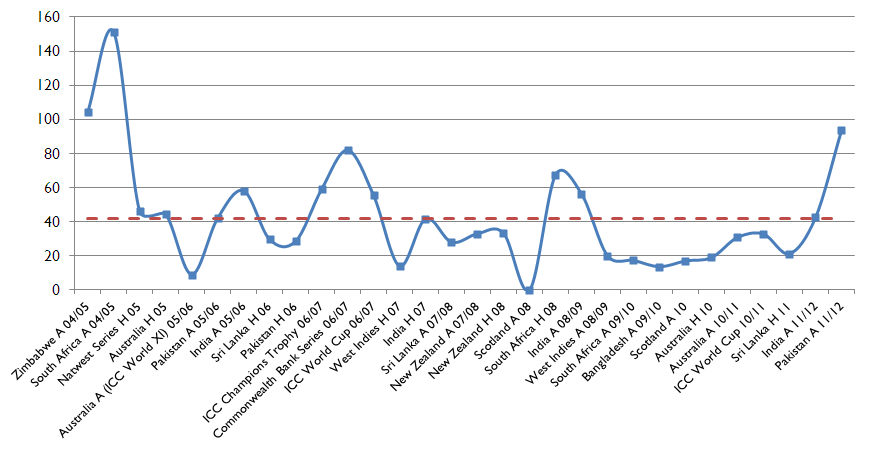 What this does show is that after a stellar start (from 2004/05 through to the 2006/07 World Cup) things dropped off massively. From then through to the recent series in the UAE, all eighteen series, Pietersen only averaged 40 or more five times. From the West Indies tour of 2008/09 (that we occasionally like to mention) to last year's visit of Sri Lanka he didn't manage it once.
Based on that information, it's fair to say that England won't particularly miss KP, with the likes of Jonny Bairstow, Jos Buttler and James Taylor all looking to force their way into the middle order. Of course, it would be a much clearer case if he (Pietersen) hadn't made two emphatic hundreds in his last two outings; England have struggled for ODI hundreds over the years and Pietersen's total of nine is surpassed by only Marcus Trescothick (12). Nevertheless, those hundreds serve only to remind what could have been, had KP not spend half a decade stinking up England's ODI side. Indeed, his absence may actually help England's selectors, who previously found it impossible to fit all the best batsmen in the team without affecting its balance and who also had difficulty in bringing the aforementioned younger players forward.
The situation in the T20 side is a little different. Looking at averages in T20 is a fool's game (your point being?- Ed.), let alone looking at series that rarely consist of more than two games, so we'll consider KP's importance in a different way.
Since the format was introduced at international level England have played 45 T20 matches, of which KP has played 36. If we look only at those 36, England have scored 5,533 runs in total. Of these KP has 1,176, or 21.3%. That's a seriously hefty chunk – the equivalent ODI calculation comes out at just 15.1% – that will have to be replaced; by way of comparison, Paul Collingwood played one fewer match in this format, but scored just 583 runs. Moreover, Pietersen's strike rate of 141.51 is bettered only by Phil Mustard, not a name we're ever likely to have to worry about again. That's not to mention Pietersen's man of the tournament award in the last World Cup, plus that mathematically elusive concept of experience.
The burden now shifts to Eoin Morgan, England's second highest T20 run-scorer with 601 (just over half as many as Pietersen from 21 matches). It's not exactly an mouth-watering prospect – he spent the entire IPL sat on his arse, presumably counting the cash in his wallet. The other option that actually makes sense to us, although Andy Flower would probably rather cut off his own face, is twitchy maverick Owais Shah. He starred in the Big Bash, did well at the IPL – scoring 340 runs in 13 matches – and, if nothing else, provides us with a wealth of opportunites for comedy.
It is also important to remember that Pietersen has recently been opening the innings in the shortest format of the game. The leading fringe players are predominantly found in the middle-order though; the main question will be who should open alongside Craig Kieswetter (assuming he remains in the side himself)? Is there another Michael Lumb out there somewhere? Perhaps Michael Carberry will be surprise beneficiary.
To conclude, the whole situation currently looks something of a farce. England will go to the World T20 without their best T20 player (by some distance) and, quite probably, without a proper gameplan. All this because he didn't want to play in a format in which he's been massively underwhelming for the best part of five years. It's a sorry state of affairs, from which nobody wins, bar every non-English international side.
On the plus side, Myleene Klass is single again, so it's time to head to the 24 hour garage to pick up some flowers. Hopefully she'll be less negative in her response to our courting than a certain Miss Taylor was a decade or so ago.