Food Processors Are Great: Cricketers Sell Out.
Modern cricket is full of corporate whores. Everything is sponsored, not just in the filthy IPL but across international and domestic cricket as well. Players are paid to promote products and even umpires are well-known enough to be used in adverts. Yet we still can't even get any free gin, no matter how hard we try. Anyway, at the Champions Trophy, where the beer sold was an unnamed brand presumably because there are no ICC-endorsed breweries, spectators were treated to a lunchtime zorbing contest, with four competitors racing each other in giant plastic wheels representing four of the tournament sponsors. This happened at every sodding match. It was a disturbing sight and got us thinking about the relationship between cricketers and brands, which then evolved into a discussion on the best and worst adverts featuring cricketers (actually, in this world there are no bests).
It is not just a modern thing though – oh no. Arguably the most recognisable cricketer of all was not one to shy away from the limelight and his burly frame was seen on promotional material for Colman's mustard and Hudson's soap.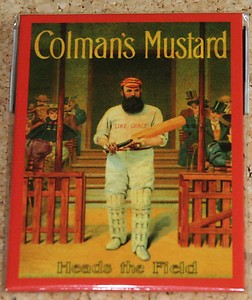 Probably the most famous cricketing promotion involved Denis Compton as the face of brylcreem. Considering how handsome his son and grandson are, the Compton genes must be proof of a God. Surely it won't be long until Nick starts advertising aftershave, cars, holidays and underwear – indeed we've already got images of the latter in our minds.
Ian Botham is another larger-than-life cricketer not afraid to take the marketing man's dollar. There were adverts for baked beans, breakfast cereal, more breakfast cereal and, in a rubbish partnership with Allan Lamb, meat.
In his post-Ashes fame, Andrew Flintoff became ubiquitous, appearing on panel shows and in reality TV, but also various commercial ventures – including Jacamo and Morrisons, the latter being a nauseating series of adverts soundtracked by Take That in which Freddie leads a group of shiny kids through the supermarket aisles in a shopping-for-social change metaphor.
Another English cricketer not shy to publicity is dancing's very own Darren Gough, who combined both his talents in some fine efforts for Costcutter. Seriously, just look at his face!
Whereas cheap minimarts are appropriately low-rate for a 1990s England player, the real superstars of contemporary cricket are associated with properly global brand names. MS Dhoni has appeared in several ads for Pepsi, showcasing acting of unquestionable quality. Meanwhile Sachin Tendulkar has appeared in one advert for every Test match he's played – including trainers, soft drinks and cement – our favourite being this one for Boost alongside Kapil Dev.
However if one product has become synonymous with cricket, it is of course methods of disguising one's baldness. As far as we can remember, it was Greg Matthews who started the trend, followed by Graham Gooch. Eventually, every man jack (or Jacques) balding cricketer seems to have been to the Advanced Hair Studios and we can only assume James Tredwell will be next in line.
Matthews and Shane Warneare of course not the only Australians to appear in commercials. Richie Benaud did it in style for shaving cream and even described Milo as "marvellous". It's Ricky Ponting though who seems to have been the most sought-after poster boy, often for the brands that are officially linked with Cricket Australia, like Swisse vitamins. We're not sure what Royal Stag are and we're not sure what's happened to Punter's voice either. Or quite what this is saying about mobile phones.
But the undisputed kings of cricketing adverts are the entire Australian team, who have to do all kinds of shit to plug all kinds of shit. With Doug Bollinger showing these kinds of moves, it's a surprise Vodafone haven't gone bust.
And finally, despite the best efforts of Dan Vettori and Stephen Fleming, we still don't know what Royal Stag is.