Where Do We Go From Here? The Future For England's Spin Attack
Amidst all the general hand-wringing about the final Ashes Test last month – the light rules are stupid, England are stupid for not doing exactly what Australia want them to do, Alastair Cook is stupid for having the temerity to only win 3-0 – the biggest gnashing of teeth came in the form of Simon Kerrigan's debut. How had it come to pass that a man with the mental toughness of a bowl of jelly had somehow found himself as part of England's attack for the biggest series of all?
We've already done our best to stick the boot in, handing him a much uncoveted place amongst our Unlikely Lads and generally sticking the boot in throughout our latest podcast. But after all that, when the gin began to wear off and the hangover kicked in, we found ourselves pondering an altogether different question: if not Kerrigan, then who?
Going all the way back to the beginning of the 1990s, England have basically had just four decent spin bowlers: Graeme Swann (248 Test wickets), Monty Panesar (164), Ashley Giles (143) and Phil Tufnell (121). After that the supporting cast is distinctly weak, consisting of the likes of Robert Croft, Peter Such and Eddie Hemmings. And of course perennial 51allout favourite Ian David Kenneth Salisbury.
With a history like that it's no surprise that England are struggling to find a new spinner as soon as Panesar was removed from the picture. That is further evidenced by a look at the County Championship numbers this season.
Given that it's been an unusually hot and dry summer, conditions in England (and Wales) should have been more spin-friendly than is typically the case. That may have been true but it's still been the seamers that have done the damage: of the 34 players to have taken 30 or more County Championship wickets, just three are spin bowlers: Kerrigan, Jeetan Patel and Dean Cosker. That works out out as roughly 9% of the 'successful' bowlers in the country being spinners, even in spin-friendly conditions. If we narrow it down to just English spinners, it's just 6%. To put that in context, if the whole current regular cast of Eastenders were successful county bowlers, only Ian Beale, Phil Mitchell, Max Branning and three-quarters of Kat Slater would be English spinners.
So if England are serious about picking another spinner – and Swann isn't going to be around all that much longer (he is after all, amazingly, older than Richard Dawson) – they simply don't have many options. With this being a Scorer's Notes piece, it must be time for a chart: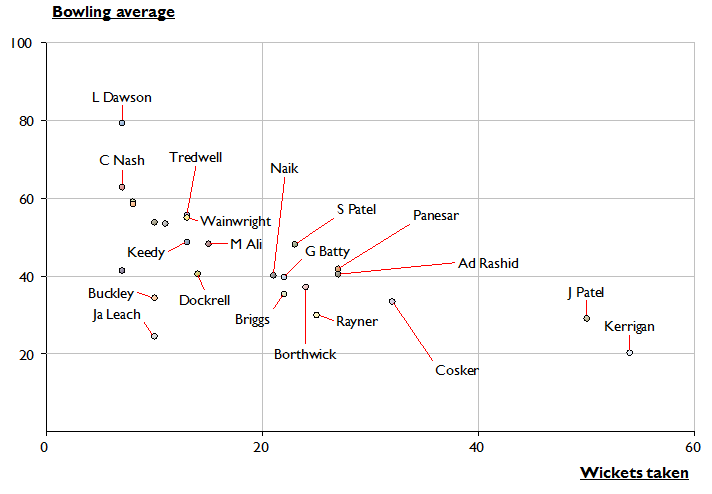 What this really shows us is how far ahead of the rest of the spinners in England Kerrigan (and Jeetan Patel) are. The likes of Panesar, Rashid and Tredwell have all been taking their wickets at an average of above 40; Dean Cosker is really old and Ollie Rayner is an international sportsmen about as much as Emile Heskey ever was. There are a few to watch for the future here – Briggs, Leach, Borthwick and Dockrell – but none have shown anything remotely resembling Test quality yet.
And it's here that we reach an alternative reading of Simon Kerrigan's selection: it was a panic selection, albeit one based around panic for the future, rather than the present. If Kerrigan can't step up – and the early evidence is somewhat damning – then England will find themselves with nowhere to turn in a year or two. Swann will be retired, Panesar lost to off-field issues and/or approaching retirement himself and James Tredwell will still be James Tredwell.
In this Mad Max style dystopian future, England may chart an entirely new course. There are three names in the chart above (Moeen Ali, Adil Rashid and Scott Borthwick), plus one in the current side (Joe Root), who all have the potential to be batting all-rounders at Test level, providing a Devereux-esque handy spin option. There's also of course one rotund Nottinghamshire player whose name escapes us but he was last seen trying to drink liquid chocolate from a waterfall. There's obviously a long way to go for all of them, but it remains a viable option in the medium to long term, with England exploiting their army of super-hunk seamers with a four man pace attack once again. This kind of tactic has worked at times for South Africa, whose spinning options vary from competent to garbage, and yet they've generally done alright. Given the fact that Jimmy Anderson will be being pushed to the crease in his wheelchair by the time of the 2015 Ashes, it's an option that England may well need.