Sri Lanka vs. England, Second Test: Preview
England's performance in the first Test of this two match series was something of a rollercoaster: there were ups and downs galore and at the end we had to sneak off to the toilets to have a bit of sick. Despite a fantastic hundred from Jonathan Trott, chasing 340 in the fourth innings against an attack that included some spin bowlers always looked likely to end badly and so it proved. As a result England find themselves staring consecutive series whitewashes in the face. And it's not a pretty face, certainly not one like the fit one from B*Witched.
The home side
It's worth noting that since Murali retired Sri Lanka's Test form has been dismal. Despite this, they managed to win a Test against the number two ranked side (South Africa) and now stand on the brink of a series victory over the number one. However, it was far from a perfect performance in Galle and there are still a few issues to consider, most significant of them being the complete failure of their top order (bar the fairly significant exception of Mahela Jayawardene). It was the wagging of their tail that eventually proved the difference between the sides but it's unrealistic to rely on the lower order to regularly bail out their more illustrious counterparts. The return of fit-again Angelo Mathews (albeit it in a non-bowling role) is an option, but it'd be harsh on the promising Dinesh Chandimal to have to make way.
One change will definitely be required, with Uda Walawwe Mahim Bandaralage Chanaka Asanga Welegedara out injured. Given that his full name takes up almost an entire tweet, that's not necessarily a bad thing. Dhammika Prasad is his most likely replacement, but he's not likely to see all that much action – Sri Lanka will have their spinners on as soon as (and as much as) they possibly can.
The away side
In traditional fashion, England's response to batting like they'd never seen spin before will be to change the bowlers. Stuart Broad's unfortunate habit of picking up injuries has struck once again, so he will definitely miss out. Question marks are also hanging over the places of Monty Panesar and Samit Patel. Panesar bowled reasonably well in Galle, but largely in a holding role. Genuine wicket-taking deliveries were few and far between, while Graeme Swann constantly caused problems from the opposite end. Add in the two horrible dropped catches and it's starting to look like the old Monty (the one England discarded) has returned.
Samit Patel's place in the side is a more complicated debate. He looked out of his depth in the first match, both with bat and ball, but might still keep his place. If Bresnan comes in for Broad and Finn for Panesar then England will almost certainly still require a fifth bowler. Unless one of Trott and Pietersen fancy bowling a reasonable number of overs, Patel is really the only option (given that Bopara isn't fit to bowl). Of course England could just go mental, bring Finn in for Patel and have the longest tail in the history of cricket, but we don't think they're quite that desperate yet.
The other option would be to go back to the four man bowling attack, with Bopara coming in at six and Prior moving down to seven. This would represent a big gamble – Bresnan would need to bowl an awful lot more overs than he has done for several months.
Of course, changing the bowling and altering the balance of the side is all well and good but the real change needs to come at the top of the order. Even though he wouldn't care to admit it, Andrew Strauss is under some serious pressure while Alastair Cook and KP also contributed very little in Galle. If they can actually figure out a method of playing spin that doesn't involve getting out to horrible premeditated shots, they might actually be able to put some runs on the board and give the four/four and a half/five bowlers something to work with.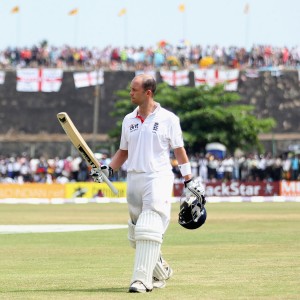 The 51allout prediction
We're not having much luck with our predictions lately. This is what we said about the first game:
"We don't rate this Sri Lankan bowling attack very highly at all, so fancy England to sneak home. Unless it rains quite a lot. That's insight for you."
It definitely didn't rain quite a lot. And England definitely didn't sneak home. But we still don't rate this Sri Lankan bowling attack all that highly, so one out of three isn't bad. Now that's insight!
This time round we reckon England will finally turn up and actually put some runs on the board. Sri Lanka will attempt to hang on for the draw but will be bowled out in the very final session of the fifth day. Samit Patel to be the hero with match figures of 1/120, never to play Test cricket again.
We'll be doing our usual mucking around on Twitter (@51allout) for the duration, including hopefully passing on more of Tony Greig's financial advice.