Australia's Batsmen: The Last Of The Summer Wine
When we started this series on the Australian Test team's efforts to rebuild ahead of the next Ashes series we had no real order in mind of how we would approach it. Well, actually, that's not quite true: we did the spinners first because we thought that offered the most opportunity for laughing at second-rate Aussies. But after that it was pretty much whatever group of players we could be bothered writing about next. Or at least so we thought up till now, because looking at the basket case that is the Australian batting line-up and the empty cupboard standing open behind it, it became clear why we had left this particular article till the end. Oh dear. It's bad. You couldn't believe how bad.
The scale of the problem
First of all it should be stated that the current Australian batting line-up will be in place come the next Ashes series. This might seem to be an overly bold statement to some observers considering the doubtful qualities of technique (Ed Cowan), temperament (Dave Warner), concentration (Shane Watson), or bladder control (Old Man Ponting) that it currently represents. But when you consider the alternatives available, that statement becomes much harder to dispute.
To consider what would currently constitute a second string Australian batting line-up, the recently announced Australia 'A' squad suffices. Certainly arguments could be made that other players deserve inclusion in this list, but these seem to be the next in line where the selection committee is concerned. And, yes, we realise Ed Cowan is a member of the Test team, we are just trying very hard to forget all about it and think this is more his level anyway.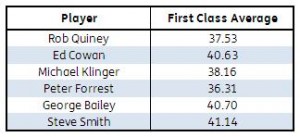 Just to give an example that shows how bad those First-class figures are, compare the above line-up to an Australian A team that toured South Africa almost exactly ten years previously, in September 2002: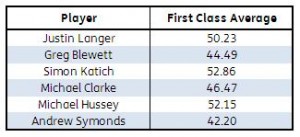 The difference between the two line-ups is so vast that the immediate conclusion that could be drawn is that the next generation of Australian batsmen are completely inferior to those that helped the Test team maintain its supremacy throughout much of the 2000's. And whilst there are some mitigating factors present, in particular the selection of players such as Simon Katich and Chris Rogers would have added a degree of respectability to a second string line-up, it is not an outrageous conclusion to draw. There is simply an almost complete absence of quality batsmen pushing for the places of the geriatrics currently clogging up the Australian middle order.
Remember the good old days (of about 5 years ago)?
It's undoubtedly fair to say that there's been a massive drop in the level of performances required to threaten the established Test batsmen. Going back to the last decade, Brad Hodge broke into the Test team for the first time in Nov 2005 after a 2004/5 domestic season in which he averaged 63, slightly up on the 61 he averaged the season before. Michael Hussey played his first Test the following season, just reward for having maintained a First-class average of above 50 for more than ten years. Martin Love maintained a similar average over an equal period before his Test debut in 2002, although his Test career lasted only five appearances. In fact it's much the same story for nearly all the batsmen who managed to break into the Test ranks during this period, from Darren Lehmann (First-class average 57.83) to Phil Jaques (49.84).
Peter Forrest, George Bailey and Rob Quiney all averaged near or over 50 during the most recently completed Sheffield Shield season, but as a glance at their overall First Class averages above will suggest, these were exceptions rather than the rule as far as their career performances are concerned. Yet these one-off seasons are enough to have them on the fringes of the Test squad. If we were in Stuart Law or Jamie Siddon's shoes we would probably feel like hitting someone right now.
That's not to say, however, that discrepancies do not exist, and that runs in the domestic competition naturally equate to a Test pedigree. The most conspicuous example is Michael Bevan, who averaged nearly 60 in First-class cricket and yet below 30 in Tests. Then there's Phil Hughes and Usman Khawaja, who averaged 74 and 63 respectively in the seasons before their elevations. Or at the other end of the scale even Michael Clarke, who seemingly provided further fuel to accusations of an inherent NSW bias in national team selections when he made his Test debut after a season in which he averaged a mere 47. And just to put that particular debate to bed, the selectors are not biased towards New South Welshman over other states; it's simply a function of the New South Welshman being naturally superior to players from the other states (and territories). Now let's all move on shall we?
Pointing fingers
Of course there may be other reasons to explain the current dearth of batting talent in Australia. As was discussed here, Australia's fast bowling stocks have not been this well populated in living memory, with as many as a dozen young bowlers pushing for national recognition. It could also be argued that pitches, particularly on the Eastern seaboard which has suffered two consecutive summers of widespread flooding, have been particularly suited toward the bowlers. Cricket Australian CEO James Sutherland voiced this very concern early last year, when he criticised the preparation of 'result' pitches in Shield cricket; decks more conducive to providing a result within four days by offering more assistance to the bowlers.
However that would be to ignore the fact that the above fringe players failed to fire in previous seasons when the sun was shining and domestic attacks were considered less fearsome. It has not been a case of these players taking a step forward, but of Australian batsmen taking a collective step back over the past two domestic seasons. The argument that pitches are more bowler friendly may be true in some instances, but poor pitches are often used as an excuse for shambolic batting performances, such as this effort by NSW in last year's competition. The simple truth is that no batsmen currently standout because none of them are really good enough to do so.
The Australian batting line-up hasn't been this open since the dim, dark days of the mid-80's. The imminent retirements of Ponting and Hussey, as well as the always-likely prospect of further injury enforced absences to Watson and Clarke, mean that beyond the coming Ashes series the Australian batting line-up could be transformed beyond all recognition. As this discussion highlights, this is a prospect that fills any right thinking Australian supporter with an overwhelming feeling of dread. For as pale an imitation of his old self that he may be, Ponting still stands heads and shoulders above the rest of these pretenders, and the prospect of an Australian line-up stacked with painfully average Ed Cowan-esque types is frankly not an attractive prospect. Australian supporters have come to expect better than that.
Who needs runs when you have Siddle?
In an attempt to end this article on a positive note for any potential Australian readers out there, perhaps the immediate future need not be as depressing as all that. If one, or hopefully even a few, of the fringe batsmen selected in the 'A' squad can make the jump required to perform in Test cricket (unlikely but not entirely impossible) then things will look a little more promising. There are also a number of promising youngsters just breaking through in Shield cricket, such as Joe Burns and Kurtis Patterson, who offer hope for the future.
But the fact remains that the days of Australian batting dominance, such as they displayed during much of the past two decades, are most likely gone for some time. Instead Australian supporters should become used to the sight of their fast bowlers attempting to drag the team back into games on the back of the pittance of runs that their batsmen have given them to play with. It could be a long, hard few years ahead for Australian Test cricket. The rest of you just try not to gloat too much, okay?