The Wiggles: England's Lower Order Hot Potato
One of the many advantages of being a 51allout reader is the opportunity to experience new journalistic techniques long before they hit the mainstream. In the past we've pioneered such concepts as the bubble chart, the rolling average and the not actually bothering to write any words in articles, all of which are still a good few years away from being accepted by proper journalism and the Daily Mail. Nevertheless, we shall plough on regardless, with another new toy to play with: the wiggle chart.
Quite why this chart is called a wiggle chart isn't exactly clear. Perhaps it was invented by Australia's second largest cultural export, the Wiggles themselves. No doubt they'll be looking for something to do when they actually retire from full-time Wiggling later this year, with cricket charting the obvious next step.
But what is a wiggle chart? In simple terms, it's just a line chart but instead of showing one measure over time, it shows two, one on each axis. It's a lot easier to explain with an example, so let's fire one up and get to the other point of this article, some casual slating of England's lower order batsmen, starting with Tim Bresnan.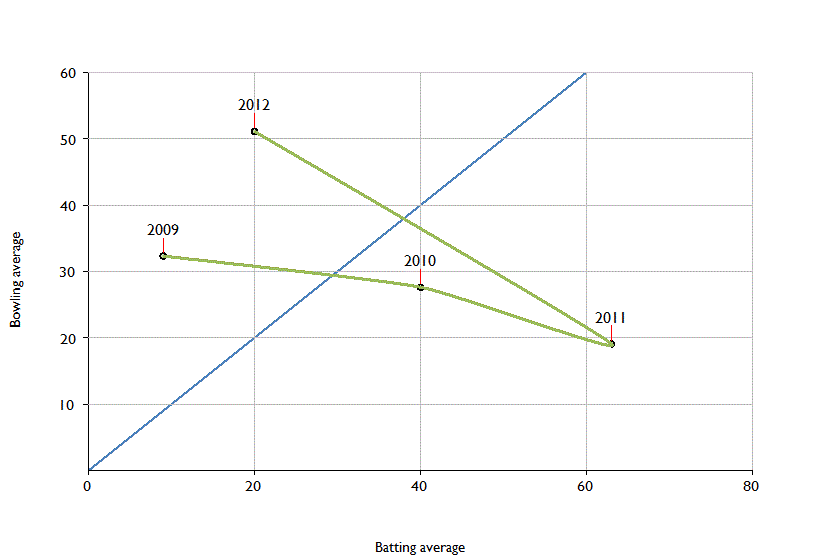 All we have in this chart is Bresnan's Test batting average on the x axis and his bowling average on the y axis, shown by year. The blue line just shows where the two are the same. Every player is aiming for the bottom right corner of the chart i.e. a high batting average and low bowling average. Of course, only the very best players can approach such perfection, although Craig Kieswetter was pretty close in the last County season. We can see Bresnan making his way nicely towards that bottom right corner, growing as a player from his debut in 2009 (two matches) through 2010 and 2011 (four matches each) before it all goes distinctly pear-shaped in 2012 (in which Bresnan has played seven matches).
That Bresnan's performances haven't reached the same high standards isn't necessarily a surprise but the extent of the decline is. That bowling average is horrible and the batting average not much better. It's hard to avoid the conclusion that he simply hasn't been the same player since his elbow surgery caused him to miss the tour of the UAE and has lost his sparkle with both the ball and the bat. He's only made it past 20 once in 2012 – hardly a ringing endorsement for a player partially picked for his batting – and taken just four wickets in his four matches against sides that aren't the West Indies. Frankly, he can no longer justify his place in the team.
Another player under pressure is Stuart Broad, whose wiggle chart looks like this: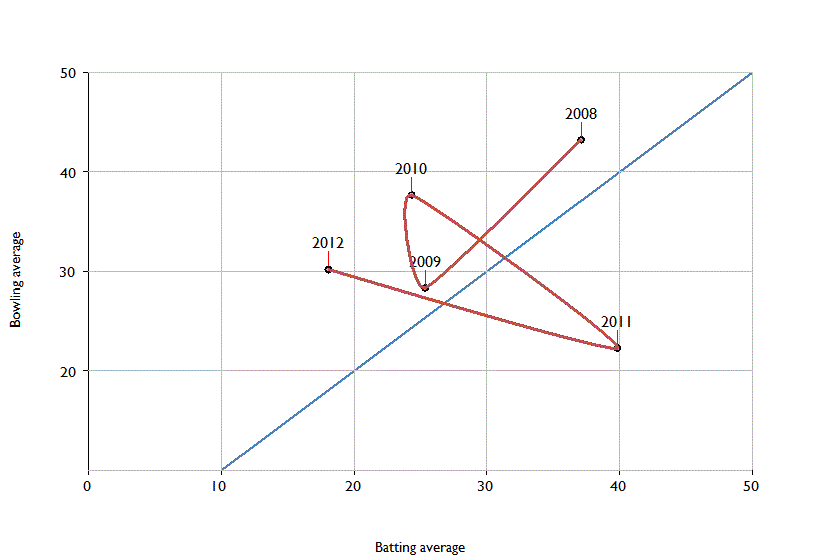 Broad's journey is a little more complicated. In 2008 his batting impressed rather more than his bowling, with the former dropping off in 2009 as the latter improved. Then came the first blip in 2010, his batting staying constant (almost entirely thanks to his one-off 169 against Pakistan) while his bowling declined again. 2011 saw a sudden vast improvement, with Sri Lanka and (especially) India blown away with both bat and ball. And then comes 2012. Compared to Bresnan, Broad's decline isn't as drastic, but it's still far from ideal. Taking wickets at 30 is still reasonable enough – he was excellent in the UAE, a fact that often gets forgotten amidst the car-crash of England's batting.
The days of bigging up Broad as a genuine Test number seven seem to be long gone. With no batting form, he's totally reliant on his bowling which lurches between brilliant and anodyne. He was very definitely the latter in the first Test, barely breaking 80mph.
The last of our triumvirate is Graeme Swann. Classing Swann as an allrounder is somewhat generous, but the fact remains that he can bat, as emphasised by his innings in the first Test, before he became drunk on euphoria and was bowled playing an unnecessary reverse sweep. The game may have gone, but there was still no need to throw his wicket away.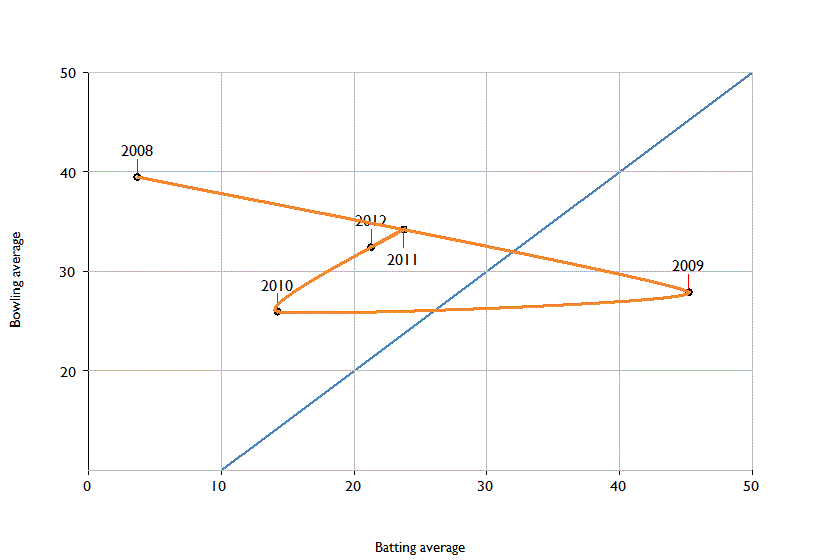 From humble beginning in 2008, a couple of Tests in India, Swann burst onto the scene in 2009, both as a bowler (54 wickets at 27) but also as a lower order hitter (452 runs at 45), particularly in the rather enjoyable Ashes campaign. While his bowling was even better in 2010, his batting dropped off massively, seemingly never to return. There's been the odd highlight – 37* and 41 against South Africa for instance – but he hasn't passed 50 in more than three years.
So with the batting excuse out of the way, how do England actually pick a bowling attack for the second Test? If Bresnan isn't going to take wickets or score runs then he should definitely be out, Panesar being the obvious replacement. Swann will remain in the side along with Jimmy Anderson, leaving the one remaining bowling spot up for grabs. Were Steve Finn actually fit (and he is, but unfortunately not in the sporting sense) he would be the obvious choice, having that extra yard of pace and having impressed in England's last (ODI only) tour of India. In his absence, the choice comes down to Broad, Onions and Meaker. It's hardly an inspiring set of options – Onions could be cannon fodder while Meaker is untried at Test level – which means that Broad may survive for one last chance. It's a chance he could certainly do with taking #justsaying