England vs. New Zealand, Second ODI: Review
New Zealand 359/3 (Guptill 189*, Taylor 60, Williamson 55; Anderson 2/65)
England 273ao (44.1 overs) (Trott 109*; McClenaghan 3/35)
New Zealand won by 86 runs.
In a sentence
New Zealand steamroller England to seal the series.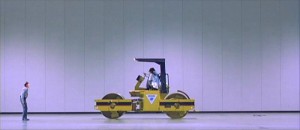 The away team
The margin of victory does not tell the full story of this match, which New Zealand absolutely dominated. Losing Luke Ronchi early merely brought their better batsmen to the middle sooner, and Kane Williamson soon began to build a partnership steadily with Martin Guptill. The turning point, if there was one, came in the 10th over when the team were 28/1. Guptill hit Chris Woakes though mid-wicket and the ball shot through Jonathan Trott's hands. It was a simple chance and the failure to take it was symptomatic of England's struggle. The opener didn't look back and batted magnificently for the rest of the innings, rotating the strike, scoring relatively freely and not playing any silly shots. He was helped by a fine pitch for batting, with even bounce and no seam, swing or spin, but nonetheless it was a fantastic innings. The middle order, particularly Ross Taylor, capitalized on some at best inconsistent bowling (at worst, terrible) and towards the end of the innings the runs were scored at an alarming rate as England lost their heads.
New Zealand also bowled and fielded better than England, with the ten wickets shared between six of the seven bowlers. It unequivocally showed that their victory at Lord's was not a one-off and they have clinched the series with a game to spare. They look well set to challenge for the Champions Trophy.
The home team
From bad to worse. At times they were wretched, particularly as New Zealand began to accelerate their innings. Chris Woakes appears to be lacking the extra level of performance that is required at this level – especially as he lacks the pace and bounce that can mitigate any lack of lateral movement – whilst Jade Dernbach has surely, surely, played his final ODI for a long time. The Rose Bowl pitch and fast outfield did not help, but once again he offered zero control whilst conceding far too many runs, even outside of the powerplays. With his international run-rate already higher than the likes of Elton Chigumbura, Sreesanth and Saj Mahmood, it is time for England to move on. Without Stuart Broad or Steven Finn they look alarmingly toothless; with one more game at Trent Bridge to come before the Champions Trophy, the selection becomes a critical matter. It is a ground where the ball should swing, so perhaps isn't the ideal place to swap a quicker bowler for James Tredwell or Ravi Bopara, but that might be the card they are forced to play.
Speaking of whom, would the batting have been aided by Bopara today? Nope. But it was another day characterised by batsmen making a start but then getting out quite rashly – Ian Bell in particular should be embarrassed by his dismissal. It was always going to be an incredibly tough chase – even in favourable conditions – but the regularity of the falling wickets should be a cause for concern.
Notwithstanding the collective thundercrap that is to blame for this loss, we need also to mention Jonathan Trott. There are seldom players so infuriating and for someone renowned for his mental aptitude and power of concentration, he sure does get plagued by moments both comedic and calamitous. A defining image of this game was Alastair Cook arguing with the umpires after television replays showed that a ball had grazed the rope following Trott catching McCullum on the boundary, stumbling, brilliantly chucking the ball up before he fell over, skipping back in to the field of play but being forced to shrug his shoulders as the ball landed a yard behind him (words don't do this justice). Yet of greater significance was the simple chance be put down early on.
And then there was his batting. A fine, balanced century as his teammates all fell for fewer than 35, scored at an eventual strike rate of 104.80, but still there were mutterings about the speed of his scoring. At times he should arguably be less introverted when batting (and we've pointed that out before), today, when he was the only England player to fucking execute his motherfucking skills, was not one of those times. It was the fall of wickets at the other end that resulted in them being bowled out with more than five overs remaining. So in summary: have a go at him for dropping Guptill, but don't get all angry at him for scoring a century at more than a run a ball.
Outlook
Trent Bridge should help the swing bowlers, but that will be the same for both teams. Having kept the same XI for both games, England must make changes, though the fitness of Broad and Finn will determine the personnel to be selected. New Zealand meanwhile must be feeling pretty ruddy chuffed and there is no reason they can't seal the series 3-0 on Wednesday.