England World Cup Ladder
And with one swift title, 51allout declare their intention to still be hanging around the verges of the internet in 2019. But will England still be doing the same on the verges of the international limited overs cricket scene? Four years is a long time and God only knows what will happen in the future. Maybe Shane Watson will finally be dropped by Australia, or Margot Robbie finally return our messages. But what we do know, on the basis of England's 3-2 victory over New Zealand, is that @EnglandCricket are finally listening to us. Apart from the bit where we say that Eoin Morgan should be tossed overboard from the Fishguard to Rosslare ferry.
Therefore, it seems a convenient time to kick off the countdown to 2019, a tournament where England will definitely, 100% officially, certainly not be playing a style of cricket four years behind everyone else. There is a Champions Trophy in 2017, but nobody really cares about that (unless England do well again, in which case it will be of monumental significance, natch).
As with previous ladders, this is essentially a ranking of importance, i.e. it starts with the first name on the team-sheet. In case you were wondering, the ladder now omits, from last time around (deep breath): Anderson, Cook, Bell, Bopara, Fucking Tredwell, Gurney, Carberry, Bresnan, Patel, Kieswetter (RIP), Lumb, Wright, Dernbach, Briggs and Trego (*sad face*).
1. Jos Buttler (+3) Although his wicket-keeping leaves room for improvement – especially when standing up to spinners – his batting has been revolutionary. When he gets going, his innings are so far removed from what was typically English, that they are literally antipodean. It wouldn't surprise us though if he ended up as a specialist batsman, and a bloody great one at that.
2. Joe Root (+9) Mr Dependable. A traditional cricketer excelling in a post-modern world.
3. Eoin Morgan (+3) Simply an incredible turnaround in form by England's ODI captain. Much-maligned (correctly), but when at his best can be compared with the world's top batsmen. The big step now is to continue this form in all conditions and for a prolonged period. As for his captaincy, well there's work to be done. We actually think the captaincy should be handed around to different players in this format for the time being, rather than having a permanent skipper, and we don't think he will still be captain in four years' hence.
4. Ben Stokes (+9) Would be even better if he ditched that manky arm-tube thing. There'll inevitably be some problems along the way, but he's too tough and too scintillating to not be integral to England's future.
5. Alex Hales (+7) In the next four years, this man will make England's highest individual ODI score. You can quote us on that.
6. Moeen Ali (+10) Although he didn't feature in the Series of the Millennium, Mo is too fluid a striker of the cricket ball to not feature again. How England handle him and Adil Rashid remains to be seen, but they will surely be England's two spin options for the foreseeable future.
7. Adil Rashid (NE) About fucking time too. Yes, spinners need time in county cricket to develop, but England's handling of Rashid back in 2009 and 2010 was abysmal.
8. Steven Finn (+6) One suspects that his best days will come as the attack leader, i.e. he will thrive in a team without Jimmy Anderson and Broad. Hopefully – oh Lord do we hope – his woes are behind him and he can become the international class bowler he has always threatened to be.
9. Stuart Broad (-6) This one is divisive. On the one hand, this new England setup should want to avoid old players from a different era. But does Broad fit that description? He's still only 28, so has more chance of playing in the World Cup than Jimmy Anderson, for example. On his day, he is capable of taking wickets at a good economy rate. We suspect his experience would help, rather than hinder, a fresh-faced attack. But conversely he is injury-prone, tarred with a poor attitude and unlikely to get better with time. One to keep on the sidelines, knowing what he can do, in case various young guns don't make the step up.
10. David Willey (NE) Oh yes. A good strong bowling action, he bowled with accuracy against New Zealand and was able to swing the white ball. Being left-handed is obviously another virtue insofar as it brings variety to the England pace attack. Capable and potentially destructive with the bat, we predict a few years of England not working out where to have Willey in the batting order. But he's the future, and oh so good looking to boot.
11. Jason Roy (NE) Good-ish in the ODI series, but he didn't do enough to secure his place for the next year. However he has time on his side and we wouldn't complain if he retained his place at the top of the order for the next tranche of ODIs. This England side need not chop and change the personnel as if it was the 1990s all over again (which it isn't, despite what Chris Evans might think).
12. James Taylor (+12) Too good to be ignored in perpetuity, however will probably remain as Joe Root's understudy at 3.
13. Mark Wood (NE) Seldom has one man been taken to so many hearts so soon. However fitness will be key, and that is something that he has struggled with in the past. We'd guess he will burn brightly, but not for long.
14. Chris Woakes (+6) Injured and thus forgotten. With the bowling department being outperformed by the batsmen though, there will continue be an intermittent role for Woakes.
15. Jonny Bairstow (+4) Could his innings at Durham be the turning point in an international career that has lurched downhill like a drunken slalom skier? Hopefully. He still looks shit-scared whilst batting, but this was a performance that turned a boy into a man. And he's probably a better all-round keeper than Buttler too…
16. Sam Billings (NE) Inevitably there will be debates over what kind of player is needed at 7 in the order, like there has been for as long as we can remember. Certainly it looks too low for a batsman such as Billings to make a big statement, but he performed when required at Chester-le-Street. With England choosing 'all-rounders', we doubt that he will have many opportunities to make a spot in the team his own.
17. Craig Overton (NE) See #18.
18. Jamie Overton (NE) See #17.
19. Chris Jordan (-10) There shouldn't be any room for specialist fielders, but you never know.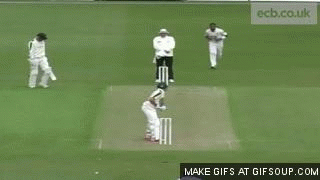 20. Reece Topley (NE) Tall, left-armed and injury prone. What's not to like? Amazing to think that a guy who has been mentioned in dispatches since 2011 is only just 21.
21. James Vince (NE) Just wait until you see him cover-drive Tim Southee for four runs on Tuesday night. He has been a prospect for years, but there is plenty of competition for a middle-order spot.
22. Gary Ballance (-13) Fading fast, but probably too good a run-scorer to write off completely.
23. Scott Borthwick (+4) We feel that sometime soon Borthwick will be given the opportunity he probably deserves; we just hope it's not the Sydney-esque opportunity he was given last January.
24. Alex Lees (NE) More likely to be given an England blue shirt than his more senior colleague Adam Lyth.
25. Sam Northeast (NE) The Kentish opener seems to have been scoring runs for fun for the last couple of years. In terms of ability, he is roughly 45 degrees to the right of Marcus North.
26. Mark Stoneman (NE) There is a queue of openers to partner Hales, should Roy not make the grade. Stoneman, as Durham's Royal London Cup lifting captain and consistent run-scorer, ought to be somewhere on the selectors' radar. Although radars are probably not the best method of tracking cricketers' abilities.
27. Lewis Gregory (NE) Promising, very promising. His stats so far suggest he should be above his twin Somerset team-mates in this list. Which, given that we put it together, probably says more about us than anything else.
28. Chris Rushworth (NE) By throwing out Anderson and potentially Broad, there is a risk that England will go through a phase of playing any old county pro for a few games before moving on to the next one. But the Durham man's record places him towards the top of the list, much to the chagrin of the Toby Roland-Jones fanclub.
29. Mark Footit (NE) Left-handed and quick, is he actually the guy that everyone wrongly thought Tymal Mills was?
30. Liam Plunkett (unchanged) Well it finally happened. When he wins Man of the Match in the Champions Trophy final, we'd like to think he will acknowledge our inspiration and influence.