From Despair To Where?
While it may appear to outsiders that we don't pay attention to anything that we're actually doing, the truth is that we at 51allout often soul-search about our complete lack of coverage of anyone who isn't either a) English, b) Australian or c) Stuart Binny. In all the articles we've done, well over 1,100 by now, we've probably mentioned Zimbabwe about three times. And most of those weren't anything to do with cricket; just complaints about Robert Mugabe hoarding old episodes of Doctor Who, refusing to give them back to the BBC so that they could restore them, stick them on DVD and sell about ten million copies, and thus provide the funding for at least another 20 years of Eastenders. Actually, this might be the first time that we've actually started to warm towards old Bobby M and his erstwhile crazy policies, most of which tend to involve murdering white farmers.
As well as not talking about Zimbabwe, we also very rarely mention the West Indies, who rank below Don't Scare The Hare in terms of the number of references on the site. As well as the fact that we don't really know much about them (the West Indies, rather than Don't Scare The Hare, which we know far too much about), there's the fact that they've been shit for a long, long time. With them having missed out entirely on stinking out the Champions Trophy, the most recent example of this shitness instead came with a 2-1 series defeat at home to Pakistan a month or so back.
As if to sum up all that is wrong with West Indies cricket, with the series tied at 1-1 and the West Indies needing to bat out the final day to secure a draw, last man Shannon Gabriel dutifully got out trying to slog Yasir Shah out of the ground. This was with just seven balls left in the match and Roston Chase unbeaten on 101 at the other end. In terms of absurd finales, it ranks up there with that water and light malarkey from Lost. Or perhaps the last episode of Don't Scare The Hare when said hare became self-aware and tried to murder the entire human race.
But are things really that bad for the West Indies? We spent a good minute and a half on Statsguru to try and find out, using a number of different measures. And by number, we mean two.
Series wins
Since the end of the legendary Amjad overstepping series of 2008/09, the West Indies have partaken in 26 Test series. Of these they've won just five, drawn three and lost 18. Even Donald Trump would struggle to spin that as a positive, but it looks even worse when you consider that of those five wins, three were against Bangladesh and one was against Zimbabwe. Plus they also contrived to lose at home to a nascent Bangladesh in 2009, a series best known for the Windies' players being on strike, resulting in them picking complete unknowns such as Omar Phillips, Chadwick Walton and Kemar Roach (the latter of whom is apparently one of the great fast bowlers, according to a really annoying bloke who hangs around our local pub).
So in terms of Test series wins, things look miserable. What about in ODIs? Well, they're pretty miserable there too. Since Amjad, it's played 39 series, won eight, drawn two and lost 29. And of those eight wins, seven came against the might of Ireland, Canada, Zimbabwe and Bangladesh. Once again, New Zealand are the embarrassing exception, although even that was all the way back in 2012.
To summarise then: the West Indies are bad. Really bad. I mean, you may think the Simpsons is rubbish these days, but that's just peanuts to the West Indies.
Test wins
At a series level then, things aren't looking too pretty. But underneath that, there are signs of life. In order to see them, we'll need to do some Trump-esque manipulation of the figures, which we'll do in a couple of stages. Our starting point is to look at a win percentage for the West Indies by year, for both Tests and ODIs (but not T20s, which remain utterly pointless at international level).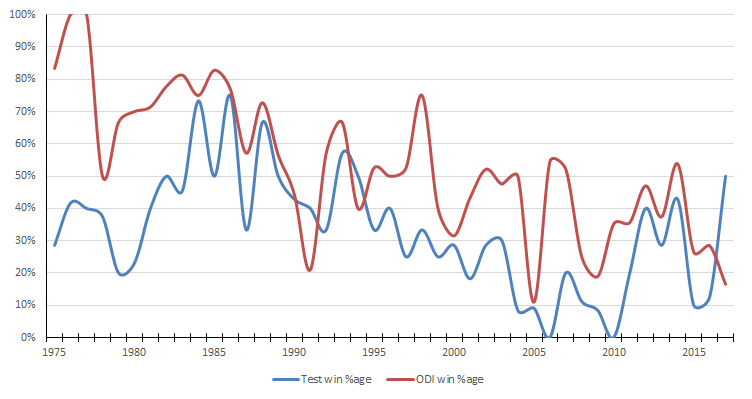 Now, there's more twists and turns in this chart than in 1966's The Power Of The Daleks, as often shown at the Mugabe family's traditional Thursday TV night. In order to clean out the trend a bit, we'll do the exact same analysis but on a four year rolling trend, given that four years is the theoretical full fixture cycle. That gives us a much clearer view, plus yet another chart for the Romford Recorder to shamelessly steal.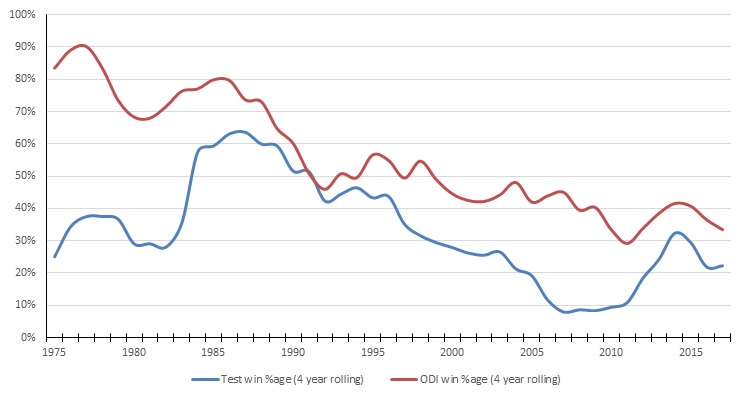 What becomes clear here is that, in terms of Test Cricket, things aren't perhaps as bad now as they once were. Slow progress it may be, but the West Indies are actually starting to become a little more competitive, particularly at home. And particularly when playing England, for some mysterious reason. To explain the upturn in recent years: in the seven years from 2004 to 2010, the West Indies won just five Test matches. In the three years after that they won nine.
If anything, from 2006 onward, this trend (both in terms of Test wins and series wins) actually resembles that of a brand new side taking their first steps at the top level – there are crushing defeats followed by slightly less crushing defeats before they move into the 'at least we competed well' phase. After that comes the occasional win in a dead rubber. Before you know it, there's the odd series win against a decent side sneaking in there. And after that the West Indies will actually be reasonably good again, able to win series at home against not very good touring sides (i.e. all of them) and maybe even the odd away series. Of course, this assumes that they don't melt down into civil war again, which puts rather a lot of pressure on Jason Holder to keep everything and everybody together.
Of course, there's also the matter of the ODI side. That line seems to be in almost permanent decline, with the West Indies missing out on the Champions Trophy by just being completely and utterly shit for ages. It's hard to see a way back there – the lure of T20 leagues around the world is clearly more like to have an impact on the ODI side than the Test team. A whole generation of West Indian players have grown up seeing ODI cricket as a poor man's T20, in more ways than one. The WICB's decision to only pick players who play in the local 50 over competition hasn't exactly helped. Unless that policy changes (and there has been talk of it recently), there's no reason to expect things to improve any time soon.