2011: Year of the bowlers?
Time and again during 2011, we found ourselves enjoying fascinating Test cricket, particularly in the latter part of the year. No doubt, from an English perspective, the whitewash of India was exceptional entertainment, but from a purely cricketing standpoint the best matches – and there were several we can describe as great (for example Zimbabwe vs. New Zealand at Bulawayo, India vs. West Indies at Mumbai, South Africa vs. Australia at Cape Town)- involved drama, farce and close finishes. And there were more than enough of these to keep us happy.
Ideally, Test cricket should have bat and ball in equilibrium, so that the best batsmen can be rewarded, but bowlers always have a chance of taking wickets. If that balance can't be achieved- whether for reasons of weather, playing surface, ability or lack thereof – then the next best is a match that favours the bowlers. Boring draws on flat pitches where the batting sides line up to score hundreds upon hundreds hopefully please only a notable minority. This is evident in the general ambivalence of sensible cricket fans to the IPL: notwithstanding the media blindness, the silly franchising and the downplaying of proper cricketing skills, it is a tournament based on the premise that the most sensational thing in the sport is a six. "A (insert brand name here) maximum." In fact, surely, the most exciting thing is actually a wicket.
It is for this main reason that 2011 has been so entertaining; it has been the year of the bowler. And significantly, of mostly the young pace bowlers (although we don't ignore the fact that Saeed Ajmal heads the wicket-taking column this year, with Rangana Herath and Devendra Bishoo in third and fourth respectively).
Several great bowlers have retired (at least from Test cricket, some can still be found turning their arms over in T20 matches) in the last five years, some of whom can rightly be described as amongst the best the world has ever seen. Not just Shane Warne, Glenn McGrath and Muttiah Muralitharan, but also Chaminda Vaas, Shaun Pollock, Anil Kumble and Brett Lee. Indeed, since 2005, 15 bowlers with at least 200 Test wickets have ceased playing. For a few years, there has as a result been a general famine of bowling quality. Dale Steyn quite clearly is the exception to this, with Harbhajan Singh, Daniel Vettori and Zaheer Khan having a large quantity of wickets but hardly scintillating averages (32.22, 33.67 and 31.49 respectively).
Meanwhile, there have been a plethora of batsman able to cash in and score runs by the ton, from the likes of Kevin Pietersen and AB de Villiers to some of the finest ever: Jacques Kallis, Ricky Ponting, Sachin Tendulkar and Rahul Dravid. Off the eleven men who have 9,000 Test runs, seven are still playing. But only Mahela Jayawardene and Kumar Sangakkara are under the age of 36. Talk of retirement has been banded around for a while, particularly Tendulkar who looked finished a few years ago before a revival in form (this was before the hundred hundreds guff). Clearly they can all still score runs, just look at the current scorecards from Newlands or Sydney for example, but not forever.
Anyway, 518 words in and it must be time for a chart. Or more specifically, two charts in one: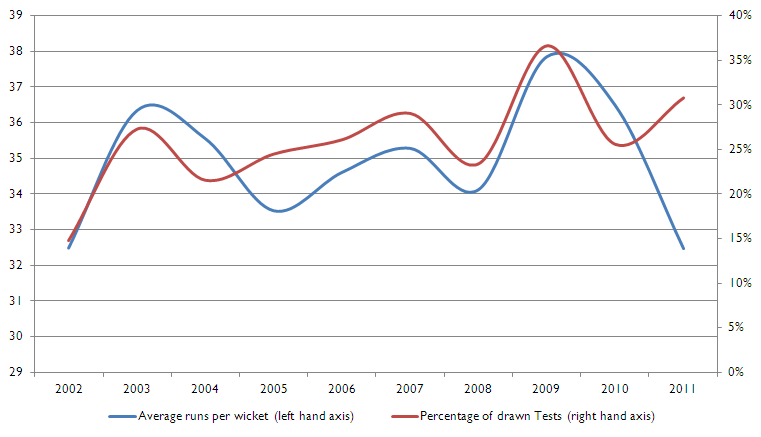 This chart shows the average runs per wicket in Test matches over the last ten years (the blue line, against the left hand axis). It is noticeable that the average for 2011 was four runs fewer per wicket than 2010, which itself was lower than 2009. Yet oddly, the proportion of drawn Tests (the red line and the right hand axis) rose from 25.6% to 30.8%. Perhaps this deserves more analysis.
But what we can say is that the current leading run scorers generally had poor years: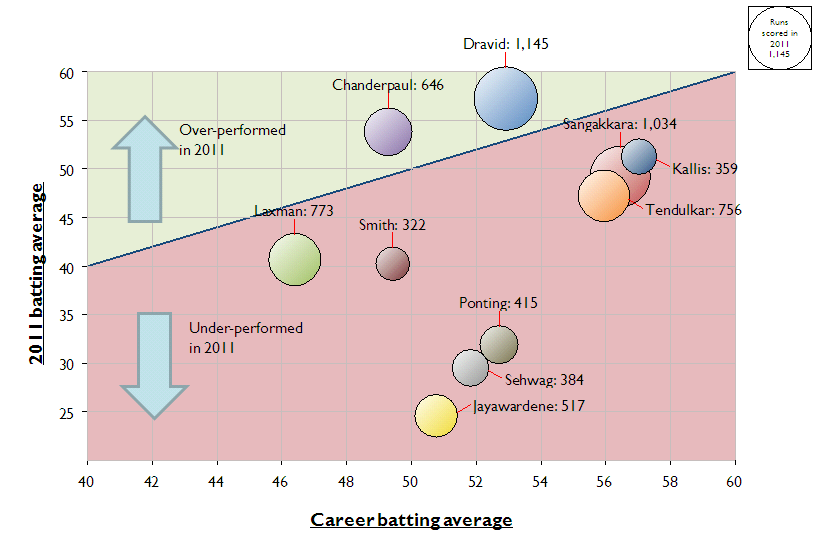 This funky-looking bubble chart looks complicated but is actually fairly simple. We've plotted each player's career batting average on the x-axis, and their 2011 batting average on the y-axis. You can see that the majority of the bubbles sit below the line, i.e. they underperformed in 2011 compared to the high standards of the rest of their careers (and by a long distance in some cases).
Despite all that there were some fine batsmen last year, don't get us wrong. Both Dravid and Sangakkara scored more than 1,000 runs (the only batsmen to do so), new boy Darren Bravo has an identical record to his relative Brian Lara at the same stage of their careers, a resurgent Pakistan had three of the top ten scorers (see the table below) and of course the Daddy-hundred compiling Englishmen had a tremendous year.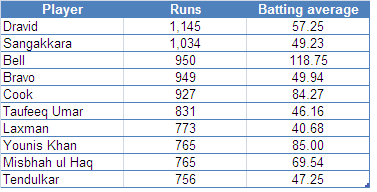 But then we look at the bowlers. Pleasingly, it is not just the established players such as Steyn and Jimmy Anderson who performed brilliantly this year. Admittedly figures can be skewed early in a career, but this goes for batting as well as bowling (hello Dinesh Chandimal and Malcolm Waller). Vernon Philander, James Pattinson, Marchant de Lange and Pat Cummins all average fewer than 17 runs per wicket taken, the first three each have a strike rate below 30; Cummins, Tim Bresnan, Umesh Yadav, Doug Bracewell and Ryan Harris all below 40 (as does Steyn). This swathe of fine young bowlers (plus Ryan Harris) is especially reassuring given that it was barely eighteen months ago when now-disgraced Mohammad Amir looked to be arguably the only fine young talent coming through to take the game by storm.
From what we can tell, whether in attendance or from our sofas, pitches around the world have not suddenly become minefields – although possibly fewer 'roads' have been used this year. Climatic conditions have not changed dramatically, and neither have the balls and bats. Simply, bowlers seem to be bowling good lines and lengths and batsmen are finding it difficult to choose when to play and when to leave- and that's before choosing the correct shot if they do play at the ball. We could easily place the blame for this at the door marked IPL, but to do so would be lazy. And more to the point, we don't really feel the need to apportion blame: long may these batting collapses and close finishes continue, particularly when England seemed to be the only side capable of consistently scoring large totals.
Mind you, should Saeed Ajmal or Abdur Rehmann subsequently bowl England out for 51 in Dubai, this article will of course self-destruct.