Australia vs. India, Second Test: Review
In a word
One-sided.
In more words
In the same way that it's a fine line between madness and genius, it's hard to tell whether this was a fantastic performance from Australia or a truly inept one from India. Most likely, it was a bit of both. Either way, a huge win for the home side by an innings and 68 runs and the margin would have been greater had it not been for a surprisingly early declaration. The victory was built on big hundreds from Ricky Ponting (his first for two years) and Michael Hussey and the small matter of 329* from Michael Clarke. After a dismal first innings effort of just 190, India's batsmen fared better second time around, making it all the way to 400. Despite this the match still ended comfortably inside four days, disappointing those with plans to spend Saturday in front of the TV.
The home side
Just about the perfect match for Australia, with even losing the toss proving helpful. While questions remain about the top three, there can't be too many complaints about the next three, considering they managed to move the score from 37/3 to 659/4. And thus Ponting and Hussey both secured their place in the team for another 18 months. Michael Clarke might regret the timing of his declaration – he is unlikely to get another chance to make 400 – and the game was won with well over a day to spare – but it's not a bad thing to have to worry about.
The bowlers did their bit again, making the most of the (only slightly) favourable conditions on the first day and then plugging away on the third and fourth. The seamers did the majority of the damage again, sharing 18 wickets, while Nathan Lyon was less impressive, being outbowled by his captain. The nature of the WACA pitch means that Lyon was always likely to be replaced by Ryan Harris for the third Test, but his long-term future remains to be seen. After all, Shane Warne, Stuart MacGill and Brad Hogg are all doing the business in the KFC Big Bash…
Two downsides from the game: another disappointing performance behind the stumps from Brad Haddin, with a number of byes and a dropped catch; and a foot injury to James Pattinson that will rule him out of the rest of the series. Expect Mitchell Starc to replace him. The injury-caused merry-go-round of Australian bowlers really is amusing.
The away side
We're inclined to almost entirely disregard India's second innings, given their pathetic contribution to the first three days. This is a side of 'former great' players masquerading as 'modern greats', with a number of problems from top to bottom. Their dismal contribution to both this series and their previous trip to England has really disappointed us.
Virender Sehwag continues to play wild shots at the top of the order, because 'that's the way he plays'. Instead of doing what the team needs – hard work and a solid foundation – he continues to play purely for himself. It's an attitude that's reaping the rewards it deserves. Alongside him Gautim Gambhir has different sorts of problems, with a number of technical issues. Yes, he made some runs in the second innings, but the game had long since gone by then.
Rahul Dravid has looked oddly out of form and has been bowled three times in his last four innings; a disappointment given how he excelled in England just a few months ago, while Sachin Tendulkar has actually looked in great nick before getting out in some strange ways. Whether it's the relentless mind-numbing reptition of the hundred hundreds saga that's getting to him, or just bad luck, it's certainly not helping the side.
VVS Laxman is another who seems to be trading on his past glories while Virat Kohli just looks out of his depth in this form of the game. Whether that's his fault or not remains to be seen. This is a side for whom the 'here and now' has been key, with the future left to look after itself. Hence they find themselves with four of the top five losing their natural gifts at the same time. Whether they are training that bit harder to compensate we can only speculate.
There wasn't exactly much to shout about with the ball either. Zaheer Khan bowled a good opening spell, picking up the three left-handers at the top of the order. After that came 154 overs with just a single wicket, and very few chances. None of the bowlers seemed to have any ideas, while the spark in the field that sometimes helps conjure up a wicket was utterly missing. MS Dhoni's flat captaincy certainly didn't help either, with a distinct lack of creativity.
Six consecutive away defeats (and it would have been seven defeats out of the last nine Tests home and away, had the West Indies not bottled their fielding at the end of the draw in Mumbai) tell a very clear story. And yet there aren't many options in terms of changes. Rohit Sharma may come in for Kohli but it's a wholesale change of attitude that is required to turn things around.
Duncan Fletcher must f**king hate touring Australia.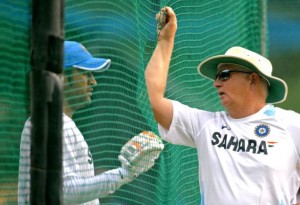 Looking forward
With the momentum totally behind Australia, India would probably rather be anywhere for their next game than the WACA. If the pitch is as fast and bouncy as it was last year, Australia will seriously fancy their chances again, particularly with Ryan Harris back into the attack. For India the horrible sense of deja vu will hang over the squad, as they face up to consecutive whitewash tours.