Classic Series Review: The 1992 World Cup
We are developing a tendency of giving inappropriate names to our regular features. Some of the 'Unlikely Lads' in our Whatever Happened To… series were very much the Likely Lads. Similarly, the second in our rose-tinted retrospective is not a series at all, but is very much a classic. But 'Classic Series and International Tournaments' doesn't have the same nattiness.
To start: some things that did not happen in the 1992 World Cup.
1. Dave Stewart did not sing the theme song;
2. The captain was not a jack the lad, but rather Graham Gooch, known as a disciplinarian, meaning no pleasure crafts were capsized off Bondi Beach;
3. The tournament lasted no more than one month, meaning attention did not diminish halfway through, despite a very long group stage;
But before we present the tournament as a halcyon time of glorious renaissance, we can confirm that England did lose to a minnow. Some things just are inevitable.
Innovations
The tournament, co-hosted by Australia and New Zealand (it was a tournament played out in exotic conditions; not just in the concrete enormodomes of Wellington, Melbourne and Brisbane, but in Mackay, Ballarat and New Plymouth), was structured in a mega round-robin format, whereby all nine nations played each other; the top four teams then played in the semi-finals. The outsiders were Zimbabwe, who unsurprisingly finished bottom of the table with a solitary win. No prizes for guessing who they defeated…
For a child in his final year of primary school, it was the first cricket World Cup. It was a late winter in England and to say that cricket fever gripped the playground would be an overstatement: most kids seemed more concerned about Leeds United chasing down Manchester United at the top of Division One. But that didn't stop the junior version of this correspondent trying to preach cricket to the masses. Indeed, it was later that year, when Pakistan toured England, that he spent a lunchtime trying to demonstrate Waqar Younis's bowling action to a bemused classmate. Sorry Joseph, but the proximity of the bike sheds mean there just wasn't sufficient space to replicate the full run-up.
This was also the first World Cup for South Africa, just months after their return to international cricket. Their squad contained a mix of experience (Omar Henry was 40, Peter Kirsten not much younger) and youth (Allan Donald, Hansie Cronje and Jonty Rhodes, for example), under the captaincy of Kepler Wessels. It was Rhodes who provided one of the most memorable moments of the tournament with his diving run out of Inzamam-ul-Haq.
It was a world cup of innovation. Fielding restrictions lead to the use of pinch-hitters, four years before Sanath Jayasuriya blasted Sri Lanka to victory. Hence the likes of Ian Botham and Mark Greatbatch opening the batting, and thus shouldering the blame for the phenomenon of Luke Wright doing the same fifteen years later. New Zealand also experimented successfully with off-spinner Dipak Patel opening their bowling.
Group Stage
Talking of Sirian, this was almost Botham's last performance on the international stage – his last match for England came the following summer – and his best contribution came at Sydney against – who else? – Australia. He took 4-31, blowing away the lower order in the process with four wickets in seven balls. This, it is important to note, was someone recently starring in Jack and the Beanstalk. England's target was 172 and they raced to the target for the loss of only two wickets: Botham and his opening partner Graham Gooch both hitting half-centuries. Well we say "raced", and it felt like it at the time, but their respective strike rates were 68.83 and 51.78. Even Mark Greatbatch in that heavy-scoring innings against West Indies shown above, had a strike rate of approximately 81. Kids, once upon a time, that was quick scoring. In only ten of the 72 innings in the tournament did a team reach 250.
The pantomime star was not the only veteran in the tournament; Imran Khan, Javed Miandad, Allan Border, Desmond Haynes, John Wright, Graham Gooch and Malcolm Marshall had all made their debuts in the 1970s. But with the likes of Brian Lara and Sachin Tendulkar also featuring, it can be seen as a bridge linking the pre-Packer era with the present day big bashes. This was the first World Cup in which the sides wore coloured clothing; that they were all different colours but the same design made it seem like the proverbial rainbow and established a uniformity that subsequent tournaments invariably failed to match.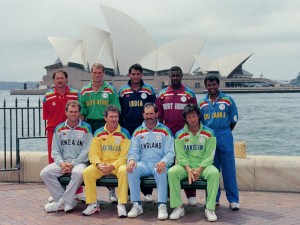 Amazingly, come the end of the round-robin, England were in second place behind New Zealand (the only side apart from Zimbabwe to beat them). Australia, hosts and holders, were knocked out, having just been pipped to fourth place by Pakistan, who themselves had won their final three matches after winning just one of their first five. One of England's best performances came at Adelaide, where they bowled Pakistan out for 74; Derek Pringle made the most of the damp conditions to take 3-8 from 8.2 overs. Sadly the rain deprived England of an otherwise inevitable victory. It was not the only time that rain would affect an England match…of which more later.
Semi-Finals
The first semi-final was arguably the match of the tournament. Martin Crowe (who was voted Player of the Series) made a scintillating 91 from 83 balls and was ably supported by Ken Rutherford (50); indeed the top seven Kiwis all reached double figures as they reached 262/7. Pakistan made a slow but steady start thanks to Rameez Raja and Imran Khan both making 44. However with 15 overs remaining, they needed 123 runs at more than eight per over. Cue the experienced Javed Miandad (57*) and the 22-year old Inzamam-ul-Haq. The latter batted explosively, scoring 62 from 37 balls before – guess what? – being run out. But the platform had been set, and Wasim Akram and Moin Khan helped Miandad reach their target with an over to spare.
In the second semi-final, Graeme Hick's 83 guided England to a very reasonable 252-6 from 45 overs (yes, there was rain in the atmosphere, but also South Africa were fined for a slow over-rate). The rain rules altered the South Africa target to 252 from 43 overs. In reply, all the South Africans made starts, but none were able to reach a half-century. A heavy downpour halted play with them requiring 22 runs from 13 balls, with all-rounder Brian McMillan batting with wicket-keeper Dave Richardson. Now this was a few years before Messrs Duckworth and Lewis put their heads together, so the rules for recalculating targets in wet weather were not particularly robust. As South Africa had already faced more than 25 overs, the match could not re-start on the following reserve day. Despite the rain easing and the use of floodlights, the target was altered to 22 from seven balls and then, farcically, 22 from one. It was thus a sour finale to what had looked like being a close finish. Although Wessels was clearly aware of the weather forecast at the toss.
Just look at that list of names in the England batting line-up: a plethora of unremarkable all-rounders, imperturbable moustaches and admittedly some big-hitting batsmen. Somehow, they were in the World Cup final. Despite the relative anonymity of the internet, I'm still hesitant to admit I cut out a picture of Chris Lewis from the newspaper and pinned it to my bedroom wall. Look, it was 1992 and if Baywatch was already showing on television, it certainly hadn't made our household. Who else was deserving of this honour?
By the time of the final, there were a handful of pupils showing an interest. I do remember leading them in a chant of "we're going to win the world cup" like a bunch of overly-optimistic minstrels, but the song was drowned out by kids, frankly idiotic kids, wanting to play bulldog instead. But a kindly teacher took pity on us. This may be as authentic memory as Tony Blair's fond recollection of watching Jackie Milburn play football, but I'm sure the teacher let us listen to it on the radio during class.
Indeed, I don't recall watching any of the tournament at the time. There can't have been many primary school children reading the sports section of the Daily Telegraph to catch up on results. Afterwards, I asked my parents for the official videos. At first they refused, assuming I meant the football world cup, but once I explained it was cricket, they acquiesced. I watched them repeatedly, unaware that the excitable commentators Tony Greig and Bill Lawry would still be plaguing the airwaves twenty years later.
The Final
So what of that final at the MCG? Derek Pringle took two early wickets with the new ball, leaving Pakistan 24/2. But Imran Khan had inspired his players to "fight like cornered tigers" in coming back from the verge of being knocked out and once again he led a recovery. He scored 72, Javed Miandad 58 and there was late hitting once again from Inzamam and Wasim Akram.
The England response jittered: Botham was out for a duck and Alec Stewart followed soon after for seven. However Neil Fairbrother – who finished with 62 – and Allan Lamb added 72 for the fifth wicket to pull England back towards parity. But then Wasim Akram bowled two consecutive deliveries from around the wicket that must lodge in the minds of anyone who saw them: the first swung in then straightened to hit Lamb's off-stump; the second cut in sharply enough to force Chris Lewis to play on.
From thereon, England were struggling. Their tail all made runs, but when Fairbrother was dismissed by Aaqib Javed, the result was inevitable. The final wicket was fittingly Imran Khan's: Richard Illingworth caught in the deep by Rammez Raja. This was Imran's last game of competitive cricket and he had marshalled his team to victory, despite the absence of Waqar Younis from the tournament through injury and their terrible start to the group stage.
As for England? Well the remainder of the 1990s were a series of lows interspersed with the very occasional high. But as a teenager in love with the game, there was always a nagging sniff of optimism, the seeds of which were sown in this World Cup. England eventually won a limited overs tournament in 2010, but their wait for a World Cup continues. But so long as the memories of the great, nay classic, 1992 tournament last, there will be hope. Roll on 2015…