England vs India, 4th Test, The Oval: Preview
In a sentence
The war is won but a final battle remains, as England look to seal what would be a wholly deserved series whitewash.
The home team
We've never had it so good. Players in form all over the place and genuine top class performers on the outside looking in. Enjoy it while it lasts. Jonathan Trott remains sidelined with his shoulder injury, though James Anderson should be fit to battle with Stuart Broad for the man of the series award, leaving the unfortunate Graham Onions still awaiting his long-overdue return to Test cricket. Ravi Bopara genuinely is in the last chance saloon here after his haul of seven runs, no overs and one catch at Edgbaston.
The away team
To call them a rabble as it stands is disrespectful to whatever a rabble is. They have still yet to collectively score more than Alastair Cook's single knock of 294 in an innings. The pace attack is as anodyne as they come and they give off the scent of a team who just want to start playing one day cricket and winning a few every now and then. Suresh Raina and Sreesanth are vulnerable after successive poor performances, and would be likely to be replaced by Virat Kohli and Munaf Patel respectively.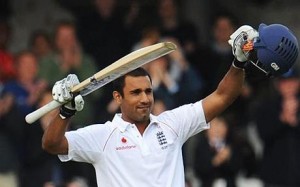 Weather forecast and pitch report
Showery conditions are predicted for the first two days, though we should be able to make up enough time to ensure that overs are made up. The Oval is oft renowned as a batting paradise, as illustrated with India's massive first innings total, incorporating Anil Kumble's maiden Test century, here in 2007. However the combination of shoddy Indian batting and high class English bowling makes anything possible.
Key players
Barring some kind of cryogenic therapy, this will be Sachin Tendulkar's final Test match in England. He will get the reception that he deserves for over two decades of the very highest class batting. For England, as previously mentioned, Anderson and Broad are the two stand-out candidates for man of the series. It's 21-18 in wickets to the Nottinghamshire man as it stands, and a lot more runs, from a much weaker position prior to Lord's. So the Burnley Express will be keen to snatch it at the death. All fast bowlers like awards.
The 51allout prediction
Barring an unprecedented turnaround in attitude – and judging by their late arrival at an "optional" net session this week, it seems unlikely – it is difficult to see India resisting the English juggernaut. 4-0.