IPL 2012: Pune Warriors vs. Somebody Else: Live!
April 8, 2012

|

Nichael Bluth

|

T20
Tweet
A lot of people think that the IPL is already perfect. We disagree ever so slightly. After all, where's the cynicism that underpins modern society? There's nothing that can't be improved by having a bunch of clever dicks making sarcastic comments from the back of the room. And so, dear reader, we're going to live blog our way through the second Pune game.
Why Pune? Several reasons (which we talked about in our article here) but the gist of it is that we're here for this fella:
And this chap:
Hopefully we'll find some interesting things to say about the game, (which you can probably watch on YouTube here). Or we might spend an hour or two talking about the County game, Atomic Kitten and $500 (plus p&p)  lithographs. Who knows?
If you'd like to be a part of the discussion just head back here for the start of play (3:30pm UK time) and hopefully a bunch of words will appear below. Don't forget you can contribute via the comments box below, via email or via Twitter.
18.04 - Nichael Bluth
Thanks to everyone for your comments and for supporting the mighty Pune with us. We'll see you next time.
Last call for any gin companies. Please do get in touch.
18.04 - James Knight
Right, we're now off to celebrate the mighty Pune's second win of the tournament. That maintains their 100% record in IPL 2012 so far. Thank you all (optimistic use of the word) for joining us, and we will hopefully be back with another live-blog for Pune's next game, which is, er, against Kings XI again on Thursday. Cheers!
18.00 - James Knight
If we get in trouble make sure you blame the gin.
Also, Darren Sammy is channelling the spirit of Smith in Barbados.
17.58 - Nichael Bluth
The players are leaving the pitch, doing all the usual handshakes and whatnot. The Kings XI players look grateful just to be allowed to touch the mighty Pune stars.
The ground has emptied really quickly. Presumably everyone rushing home to see if their house has been broken into.
17.56 - Nichael Bluth
22 runs is the margin in the end. Steve Smith made a remarkable cameo of 25. We don't really need to say any more than that.
17.55 - James Knight
WE ARE PUNE
17.54 - Nichael Bluth
20 overs 144-8  A rubbish final over from Marlon Samuels but it makes no difference and Pune are victorious!
17.51 - Nichael Bluth
19 overs 131-8 Wicket! Dinda gets in on the party with a slower ball which some Aussie we've never heard of obligingly chips to Ganguly. The camera hovers on Steve Smith once more, as if he's about to bowl the last over.
He isn't.

17.49 - Nichael Bluth
The top three tweets are up now. Suffice to say they wouldn't make it through the 51allout comments filter.
17.47 - James Knight
They certainly must feel out of place at the IPL.
17.46 - Nichael Bluth
The cheerleaders are going mental but they all look a little dead behind the eyes. I doubt they really care about cricket all that much – for them it's just a paycheque.
17.45 - James Knight
I'm fairly confident the mighty Pune have won this.
17.45 - Nichael Bluth
18 overs 122-7 Ten off the first two balls of Sharma's over but he keeps it relatively tight from that point on. Nearly done now.

17.41 - Nichael Bluth
17 overs 108-7 Just four from the over. 59 still needed from 18 balls.

17.40 - James Knight
*Mournfully puts 'Mascarenhas for England' bandwagon back in the garage.*
17.40 - Nichael Bluth
16.4 overs 106-7 Wicket! Marlon Samuels is back and his gentle spin is lifted to long on. Jesse Ryder takes a very comfortable catch. Mascharenas is gone and it's time for the fat lady to start doing her warmups.

17.37 - Nichael Bluth
Right, we're into the final stretch. Time for Adrian Mascarenhas to recreate his one glorious innings for England, otherwise his side are going down.
17.35 - James Knight
16 overs 104-6 Another good over and Kings need a rather unlikely 62 from the final four overs. It's a completely unnecessary tea break to delay Pune's victory parade that little bit longer.
17.35 - Nichael Bluth
For all his talents, Steve Smith's haircut still looks like an experiment with a van der Graaff generator gone wrong.
17.32 - James Knight
15.1 overs 99-6 WICKET! Chawla's desperate final charge is over as he holes out to long-on. Good catch in the deep and Sharma has another.
17.31 - Nichael Bluth
Doesn't look like Steve Smith is going to get a bowl. Disappointing doesn't cover it.
17.30 - James Knight
15 overs 99-5 Nehra follows it up with a triffic yorker which is inside edged through fine leg. He shows the famed Pune powers of recovery to concede just one from the final three balls.
17.27 - James Knight
14.2 overs 94-5 SGC MAXIMUM! Chawla bashes Nehra over long-off. Follows it with a four through mid-wicket. The comeback is on!
17.27 - Nichael Bluth
83 needed off 36. Even Mark Ealham would struggle with that.
17.26 - James Knight
14 overs 84-5 WICKET! And then in fury Sharma bowls a quicker one, Hussey plays an utterly abysmal shot, misses it and is bowled. Kings XI have just about scraped to half way. Dimi 'five sixes in one over' Mascarenhas is the latest into the firing line.
17.24 - James Knight
13.2 overs 82-4 BBQ MAXIMUM! Letting a leggie who isn't Smiff bowl was a mistake. Dave Hussey clubs him over cow corner.
17.22 - James Knight
13 overs 75-4 Every time they show Smith on the screen I get a surge of excitement thinking he's going to bowl. Whilst I love his aversion to the norm of wearing a hat in the field, it's just teasing me.
17.21 - Nichael Bluth
You're right – no QVC maximums so far in this innings.
17.20 - James Knight
12.5 overs 75-4 WICKET! Nayar tries to attack Nehra's booming inswinger and just paddle sweeps it straight to Ganguly running around at mid-wicket. Oops.
17.19 - Nichael Bluth
The camera is absolutely in love with Steve Smith.
17.17 - James Knight
12.2 overs 74-3 Nehra back into the attack, Smith makes one of the great stops at backward point first ball. Unless the gin is really affecting me I don't think there's been a CIA maximum in this innings yet.
17.15 - Nichael Bluth
12 overs 72-3 A filthy over from Ryder, conceding 14 from it. I don't reckon he'll get his fourth over.
17.14 - James Knight
I think the IPL could probably do with a close game at some point. Pune are destroying teams so ruthlessly it's not really a contest.
17.11 - Nichael Bluth
11 overs 58-3 Apparently walking off when you clearly nicked it should qualify you for some sort of fair play award these days. The run rate is reaching Stick Cricket proportions now.
17.08 - Nichael Bluth
10 overs 53-3 David Hussey is the new man. He has something of a job on his hands here.
17.06 - Nichael Bluth
9.4 overs 50-3 Wicket! Ryder's half-assed medium pacers have done the job here. Mandeep Singh has nicked one and doesn't even wait for the finger to go up before setting off to the dugout.
17.05 - James Knight
There hasn't been a run for 24 deliveries in the Test match. They'd still be doing better chasing 165 in 20 overs than this lot.
17.04 - Nichael Bluth
9.1 overs 49-2 Ryder's first ball doesn't bounce in the slightest and runs away for four byes. The stumpcam appears to pick up someone saying "Fuck!" quite loudly.
17.03 - Nichael Bluth
The timeout is done and off we go again.
17.01 - Nichael Bluth
The lower-quality resolution of YouTube is probably doing some of the cheerleaders a big favour.
17.01 - James Knight
Pune have even had to overcome the fact that some scoundrel has put concrete in Ganguly's boots too.
17.00 - Nichael Bluth
9 overs 45-2 Murali Kartik bowls a front-foot no-ball but the resulting free hit is turned away for just a single. There's a bottom edge for four as well. And a wide. It's a bit of a cack over really.
The crowd are going mental. They know they're in the presence of greatness. Time for a strategic timeout!
16.56 - Nichael Bluth
Kings XI just 23 runs worse off at the halfway stage. And that was before Steve Smith started racking up the ITV Maximums.
16.55 - James Knight
8 overs 30-2 They seem to be treating Ryder's bowling as if it's Malcolm Marshall at his peak. The required rate is already over 10. Surely SPSD will get a bowl today. Surely.
16.54 - Nichael Bluth
I heard he was swapped for a bag of balls and some tracksuits. But that might have been Tony Cascarino.
16.53 - James Knight
7.3 overs 27-2Pune mocking Kings XI now, Jesse Ryder wobbling in to bowl. In response to fros231, Pune didn't take part in the auction, they've signed all their players since then. No idea how much Smith went for, whatever it was it wasn't enough.
16.50 - James Knight
7 overs 23-2 Murali 'tharan' Kartik on to bowl. This is utterly shambolic from Kings XI. Though one has to respect their attempts to lose all 10 wickets to run outs.
16.50 - Nichael Bluth
Danny Morrison is very confused. He thinks it's 2010. I bet Amy Winehouse wishes it was.
16.48 - Nichael Bluth
An awkward moment there as a cat-on-keyboard incident briefly closes the browser. Did I miss any more Steve Smith magic?
16.47 - James Knight
6 overs 19-2 Kings XI suddenly realise with a shocked gasp that this is a T20 match and actually hit a boundary in response. The run-rate surges past 3.
16.45 - James Knight
5.3 overs 14-2 Danny Morrison back into the commentary box. He's immediately started talking about virgins, as if there's any left in Pune since Steve Smith sauntered into town.
16.44 - Nichael Bluth
Regardless of the standard of bowling, this is some seriously bad chasing.
16.42 - James Knight
5 overs 14-2 Nehra is absolutely Daryl Harper-d out of a plumb LBW shout. But other than that it's yet another astoundingly good over.
16.41 - James Knight
4.4 overs 12-2 Indian legend Ashish Nehra is storming in now. If this isn't the worst chase of all time it's probably in the top three. But Pune's attack is so fearsome I'm not sure they can be blamed for it. Mumbai ended up 5/3 at the start of theirs the other day.
16.37 - Nichael Bluth
4 overs 11-2 Have Kings XI Punjab given up already?
16.37 - Nichael Bluth
Actually, a yard was a bit too generous. Gilchrist was run out by miles there. Moral of the story: don't take on Steve Smith. You will lose.
16.36 - James Knight
Steve Smith must be the best fielder in the world. On top of being the most explosive batsman and deceptive bowler that is quite an all-rounder Australia are refusing to pick.
16.35 - Nichael Bluth
3.2 overs 9-2 Wicket! Steve 'Man Of The Match' Smith has done it again. They try and pinch a quick single but Smith's throw is powerful and manly and Gilchrist is run out by a yard.
16.33 - Nichael Bluth
3 overs 9-1 Another spot on over from Dinda and this is looking like it might be over before Smith even gets a chance to bowl.
16.31 - Nichael Bluth
There's a Volkswagen there with Steve Smith's name on it.
16.30 - Nichael Bluth
Valthaty is the man out. Good news, because his name was proving difficult to spell. Steve Smith was involved in the run out as well!
16.30 - James Knight
I particularly enjoyed how it took the entire Pune team to actually complete that run out.
16.29 - Nichael Bluth
2.1 overs 7-1 Wicket! There's a big shout for LBW, looked like a good one to me but the umpire says no. The noise is terrifying and Valthaty panics and runs. He and Gilchrist end up at the same end. But which is actually run out?
16.29 - James Knight
You're quite welcome to encourage people to ransack other parts of India, but I will not sit idly by and allow you to promote abuse of the poor citizens of Pune.
16.27 - Nichael Bluth
So it's okay to call the readers lazy gits, but encouraging people to break into houses in Pune and nick stuff is wrong?
16.26 - Nichael Bluth
2 overs 7-0 One loose delivery is smacked through point for four by Gilchrist but other than that it's another superb over.
16.25 - James Knight
On the subject of Pune heart throbs (read the comments you lazy gits), I can only imagine that SPDS and Luke Wright share an apartment. Their home must be like a who's who of the beauties of Pune every night.
16.25 - Nichael Bluth
They are taking absolutely forever to start this second over. Marlon Samuels is eventually going to bowl it.
16.23 - Nichael Bluth
1 over 3-0 Great start from Pune, just three runs off the opening over. The run rate is up around infinity already.
16.21 - James Knight
Gilchrist seems to have forgotten to bring his Zimmer Frame out to the crease with him.
16.20 - Nichael Bluth
0.1 overs 1-0 Adam Gilchrist is definitely one of them and he runs the first ball away for a single to third man. Dinda is the bowler.
16.19 - Nichael Bluth
Right, the Kings XI Punjab batsmen are on their way out to the middle. Who are they? No idea – the camera is jigging around like Sabrina's breasts in 1987.
16.18 - James Knight
When you reach the pearly gates this is going to count against you. All that good work you did making jokes about B*Witched and posting immensely popular pictures of Boglins will go to waste.
16.14 - Nichael Bluth
I'm not encouraging them to do anything. I'm just pointing out that in these tough economic times even thieves need to catch a break sometimes.
16.12 - James Knight
Why are you encouraging people to rob the upstanding citizens of Pune?
16.11 - Nichael Bluth
The innings highlights are on now. If you've got kids, you've got about 90 seconds to get them in front of the telly before the Steve Smith stuff is on.
16.08 - Nichael Bluth
It might be the camera angle, but it looks like most of the 3,115,431 population of Pune have turned up to watch this game. Probably a great opportunity for thieves from other areas to head into Pune and loot to their hearts' content.
16.06 - James Knight
They'd never get close to this if Pune had Luke Wright steaming in with the new ball.
16.05 - Nichael Bluth
This is going to take some serious chasing. Just time to get some more gin in before Pune begin the process of skittling whoever it is that they're playing.
16.04 - Matt Larnach
20 overs 166-6 All over. A disappointing last over, but anything would have paled in comparison to the madness of the preceding one. This total looks like enough to get the unconquered Pune over the line. We will, of course, be covering the second innings in full.
16.02 - Matt Larnach
19.2 overs 166-6 Smith charitably throws away his wicket to let someone else share the fun. A king amongst men, one S. Smith.
16.01 - Matt Larnach
19.1 overs 164-5 another maximum. The crowd is chanting Smith's name. I presume.
16.00 - Nichael Bluth
It is absolutely raining BBC Maximums here.
15.59 - Matt Larnach
19 overs 158-5 My gob is well and truly smacked. One of the most amazing overs I have ever seen. 26 off it, Singh red carded for bowling beamers, and there is still one over to go. Amazing stuff.
15.59 - James Knight
We worship at the Church of Smith.
15.57 - Nichael Bluth
It gets more amazing!
15.57 - Matt Larnach
18.2 overs 139-5  Amazing scenes as Singh is dragged out of the attack for successive full tosses.
15.54 - Matt Larnach
18.2 overs 132-5 Uthappa gone now. Clean bowled missing a straight one. Is fair to say he may have been watching England bat too much this winter.
15.52 - Matt Larnach
18 overs 131-4 Smith continues to break bats as quickly as he does girl's hearts. Some big hitting needed now at the death to get them over 150.
15.50 - Matt Larnach
17.2 overs 122-4 Smith breaks his bat, and I drop my gin glass in anger at Morrison referring to him as 'Smithers'.
15.50 - James Knight
Deonarine's got out down in Barbados purely to watch Steve Smith bat.
15.49 - Nichael Bluth
Literally everything stops when Steve Smith is at the crease – Arsenal and Man City have stopped playing at the Emirates. Just like that.
Incredible scenes.
15.47 - Matt Larnach
17 overs 122-4 A hushed silence comes over the crowd….
15.47 - James Knight
They've got to get Luke Wright into this team. They'd have at least 200 if he was playing.
15.47 - Matt Larnach
16.5 overs 122-4 The cricketing world rises as one as one of its greats walks onto the stage.
15.45 - James Knight
Taking four days to win a game is so last season.
15.45 - Matt Larnach
16.3 overs 121-4 More comedy running here from Pune. And now a wicket as Ferguson's horror series continues.
15.44 - Nichael Bluth
This is probably the ideal moment to mention that Somerset have beaten Middlesex by six wickets.
15.41 - James Knight
16 overs 121-3 It's no surprise really that Pune have such a beautiful girl as a fan. The umpire just signalled for a referral. That appears to mean something else entirely here. Everyone's having a drink.
15.40 - Matt Larnach
I have no idea what the commentator was blathering on about there.
15.38 - Nichael Bluth
The woman being interviewed now has the shiniest forehead I've ever seen.
15.38 - James Knight
15.2 overs 116-3 Inexplicably Callum Ferguson has come in ahead of Smith. Mark Butcher is quoting Kipling in the studio. Nearly another run out. Mascarenhas is bowling again. It's all going off. Oh hello, who's this girl in the crowd?
15.37 - Matt Larnach
I am both shocked and appalled that the MotM performance by S. Smith last time round did not warrant a promotion up the order.
15.37 - Nichael Bluth
Can I just say that having that massive picture of Luke Wright constantly at the top of the screen is making this into a semi-religious experience?
15.36 - James Knight
15 overs 113-3 WICKET! Samuels goes for a textbook wild slog over mid-wicket and misses completely. Gone for 46(39). One wicket closer to SPD Smith…
15.35 - James Knight
14.4 overs 112-2 Moustached umpire goes upstairs again, for a stumping shout this time. Shastri appears to have made up an ICC law about both bails having to be dislodged. Then Uthappa hammers a UFC over the covers!
15.35 - Nichael Bluth
I once threw a shrimp onto a hot tin roof, just to prove that I could. It didn't make much noise.
15.33 - Matt Larnach
Gilly making more noise than a shrimp on a hot tin roof. Or something.
15.32 - James Knight
14.1 overs 105-2 Samuels hits a cut so hard down to deep extra that it literally burns a hole through the fielder's hands and goes for 4.
15.31 - Matt Larnach
Faulkner showing why he is a poor man's Mitch Marsh at the moment.
15.31 - James Knight
14 overs 101-2 Mysterious Australian no one has ever heard of back into the attack. Presumably not the same person who sent us aforementioned e-mail. Out of boredom Samuels hammers a drive which smacks Uthappa at the other end, who recovers in time to guide a boundary from the final ball.
15.29 - Matt Larnach
I think they need to up the ante here. Plenty of wickets in hand. One of which, of course, is the incomparable S. Smith.
15.28 - Nichael Bluth
No gin-related emails in the inbox so far unfortunately. But we should say thanks to the lady from somewhere in Australia who wrote us a lovely email last week. So, er, thanks for that.
15.26 - James Knight
13 overs 92-2 Fluky over from Harmeet Singh. Gets away without being hit for any SMS's, Pune must be lulling them into a false sense of security before SPD Smith gets in.
15.26 - Nichael Bluth
This is a rather splendid stadium, to be fair. Pisses all over Weston-Super-Mare.
15.25 - James Knight
12.4 overs 89-2 Some outstanding running on display here. One of the umpires has a triffic moustache too. I think it's affecting his vision. He's going upstairs on every run out shout. The latest one referred despite the fact Samuels had run past the sightscreen.
15.23 - Matt Larnach
There is a joke to be made about men with patches on their knees, but I surely wont be the one to make it.
15.22 - Nichael Bluth
12 overs 86-2 Quite a tight over, I think. The YouTube feed went a bit funny for a second there.
15.22 - Nichael Bluth
Has Mascarenhas got geography teacher-esque leather patches on his knees?
15.20 - Matt Larnach
Danny Morrison is surprisingly subdued in the commentary box. I believe he is in awe, as we are, of what is occurring here.
15.20 - Nichael Bluth
Adrian Dimitri Mascarenhas is back into the attack. Attack of course being a very generous description.
15.19 - Nichael Bluth
11 overs 80-2 Nine from that over, all the pieces getting into position before Steve Smith comes out to lead Pune to a glorious score. Probably somewhere around 155.
15.17 - Nichael Bluth
10.1 overs 77-2 Marlon Samuels has just hit a massive DFS Maximum. That's gone miles back.
15.17 - Matt Larnach
If Pune wins this game, as I think they will, it will be the biggest thing to happen in the city since Rango Bapuji Dhadphale was appointed as its administrator under the Mughal dynasty in 1625.
15.16 - James Knight
It must be nearly time for the Tetley Tea time out. Or have we already had it?
15.15 - Nichael Bluth
9.3 overs 65-2 Robin Uthappa hits his first B&Q maximum, miles over long off.
15.14 - James Knight
Not sure how feasible it is to cover 8 games taking place at the same time on Youtube. When it's just one T20 that's fine, but a whole round of Championship games might be difficult. Anyway, that's enough serious stuff.
15.12 - Matt Larnach
Am off to check the inbox for potential Gin sponsorships.  Pune will be aiming for 150 here.
15.12 - Nichael Bluth
9 overs 58-2 A good first over from Chawla, just five singles from it.
15.11 - Matt Larnach
8.2 overs 55/2 The strategic timeout is sadly lacking in an offical sponsor. We feel that is an opportunity missed there.
15.09 - Nichael Bluth
As a rare serious point, can I just say what a good idea it is to broadcast the whole thing on YouTube. The County Championship could do worse than look at a similar idea.
15.07 - Matt Larnach
8 overs 53/2 The first DLF Maximum for the new Subrata Roy Sahara Stadium. Pune sitting nicely here.
15.05 - James Knight
Why is Marlon Samuels number 730? His ICC ranking?
15.05 - Nichael Bluth
Simon Taufel's hat is amazing. Looks like the sort of thing Paul Hogan might wear. Although not if he was trying to keep a low profile, perhaps to avoid the taxman.
15.05 - Matt Larnach
7 overs 43/2 Mascarenhas out of the attack. God his name is hard to spell.
15.02 - Nichael Bluth
A leg bye and a wide there. Sundries starting to pick up the pace.
15.02 - Matt Larnach
6.4 overs 40/2 Scoring has slowed up considerably. Someone needs to fall on their sword and get one S. Smith out there.
14.59 - Matt Larnach
6 overs 38/2 Gilchrist is a runaway leader for the Polka Dot Hat for best 'keepers banter. And the English are complaining about antipodean scoring conventions. Again. Will be whining about 'extras' soon.
14.59 - Nichael Bluth
Ignore what Ravi Shastri says – these are ideal conditions for the LBW king, Mark Ealham.
14.57 - James Knight
Knew we should never have let an Australian do the main commentary. I thought Pune had lost 36 wickets for a minute. I'm now out of gin.
14.56 - Matt Larnach
5 overs 2/36 Uthappa is the new man at the wicket. Steve Smith is being held in strategic reserve.
14.56 - Nichael Bluth
Thanks to everyone sending in comments so far. We'll continue to publish the very best.
14.54 - James Knight
Picking Ryder over Luke Wright looks even stupider now than it did half hour ago.
14.53 - Matt Larnach
32/2 4.4 overs Spoke too soon it seems. Ryder has obviously had enough and so runs himself out comically at the non-strikers end.
14.52 - Matt Larnach
4.3 overs 32/1  Ryder is doing his best to run-out Samuels here. Has been sadly unsuccessful so far.
14.52 - Nichael Bluth
First mention of Jesse Owens in the commentary there. Later on they'll be talking about Mary Bignal-Rand.
14.50 - Matt Larnach
Please forget my comment about the standard of fielding.
14.49 - James Knight
4 overs 28-1 WICKET! Ganguly is deceived by a cunning piece of filth bowling from Mascarenhas, and lobs it straight to Valthaty at mid-off. Ganguly gone for 18(20).
14.48 - Nichael Bluth
I spent about two months of my life talking about the Big Bash being a retirement home but this is ridiculous.
Obviously don't be reading all those articles now.
14.48 - James Knight
3.5 overs 26-0 In fury at having to actually run a few times, Ryder tries to run Ganguly out. Sourav isn't particularly pleased. He's never done that to anyone, he deserves better. Then Ganguly amazingly lobs Chawla at long-on, who wobbles backwards, tumbles over and can't claim it. You can't teach that sort of placement.
14.46 - Matt Larnach
Aside from the odd Callum Ferguson brain freeze, the standard of fielding in the IPL this season has been really high.
The standard of umpiring less so.
14.46 - James Knight
3.2 overs 23-0 DIMITRI MASCARENHAS IS BOWLING. Did you know he once hit 5 sixes in an over?
14.45 - Nichael Bluth
Obviously we knew it already, but Pune have just proved that they're better than Durham University.
14.43 - James Knight
3 overs 21-0 Becoming quite concerned Ryder is going to pass out. He's just had to run a three. Poor bloke looks in bits. Robin Jackman and HD Ackerman are having a weird argument about whether Gilchrist or Ganguly is a better player. Which one of them plays for Pune? Exactly.
14.41 - Matt Larnach
The commentators seem to have mistaken a bunch of over the hill hacks for Titans it would seem.
14.40 - James Knight
2.2 overs 16-0 Huge appeal for LBW, never out in a million years. I'd give 5 penalty runs to Pune for the frivolity of that appeal. Ganguly cunningly sneaks a leg bye. Wonderful batting.
14.38 - James Knight
2 overs 15-0 Commentators are interviewing Dave Hussey on the pitch, he seems to have made up a question to answer initially. Having said hello he was greeted with complete silence, looked a bit confused and just started talking about how good the atmosphere is. Ganguly is refusing to let Ryder bat.
14.37 - Nichael Bluth
Based on the camerawork so far, I don't reckon we're the only ones who love gin.
14.37 - Matt Larnach
Am seeing quite a few Steve Smith 49 shirts in the stands today.
Sadly no Luke Wright 06 sightings thus far.
14.36 - James Knight
1.1 overs 13-0 Some Australian bloke we've never heard of is bowling. Ganguly has mastered the late inside edge past the keeper for four.
14.36 - Nichael Bluth
Decent start this. Building a platform for the later Smithageddon.
14.34 - James Knight
1 over 9-0 The fearsome pace of Praveen Kumar has broken Ganguly's bat already. In a fit of pure fury he changes it and absolutely marmalises the next ball off his legs for another four to fine leg. Farms the strike with superbly run single off the final ball. Jesse Ryder's getting mouth to mouth at the non-strikers end.
14.32 - Matt Larnach
I would really like to emphasise the "anyone else" bit. Even Gordon's.
14.31 - James Knight
0.2 overs, 5-0: Ryder gets Ganguly on strike, who late cuts the second ball past his own stumps through fine leg for four.
14.30 - Nichael Bluth
Before we start, just to clarify that we're not joking when we go on about gin. So if you work for Diageo or Pernod Ricard (or anyone else) and you want to send us loads of free gin, then please get in touch via the comments, the email or the Twitter. Or write on our Facebook wall. The important thing is that you do get in touch.
14.30 - James Knight
Sourav Ganguly tells us there's just one change in the Pune team, then proceeds to name two. Ashish Nehra and Jesse Ryder are both starting.
PUNE ARMY: Ganguly, Ryder, Pandey, Uthappa, Ferguson, SMITH, samuels, Kartik, Sharma, Nehra, Dinda
Other guys: Gilchrist (yes, really), Valthaty, Nayar, Dave Hussey, Mascharenhas, Mandeep, Chawla, B Sharma, faulkner, Harmeet Singh, Kumar.
14.23 - James Knight
As if you didn't already know, Pune are one of just three teams with a 100% record in the tournament so far.
14.16 - James Knight
The Pune Army have won the toss and will bat first.
14.15 - Nichael Bluth
Adam Gilchrist is 40 years old. Steve Smith is 22. He could be doing this IPL malarky for another 20 years or so. Imagine how much money he'll have!
14.13 - Matt Larnach
Master and Apprentice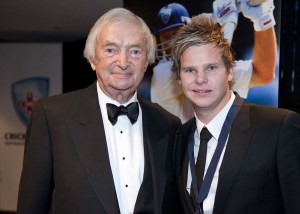 It is so inspiring to think that even into his 80's, Richie still feels he has a lot to learn.
14.08 - James Knight
Australia are desperately missing Steve in Barbados.
14.06 - James Knight
STEVE SMIFF'S FOR THE PURPLE HAT.
Is the most runs hat the purple one? Or the orange one?
BOTH!
13.53 - Nichael Bluth
I think Pune will win because:
13.51 - Matt Larnach
I THINK PUNE WILL WIN BECAUSE THEY PLAY WITH CRICKET IN THEIR HEARTS
Wait. This isnt Cricinfo….
12.29 - Nichael Bluth
Still quite a while before play actually starts. We could have a pretty epic discussion about Atomic Kitten in that time.
13 replies to "IPL 2012: Pune Warriors vs. Somebody Else: Live!"